Japan laments China protest damage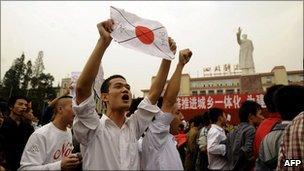 Japan's prime minister, Naoto Kan, has expressed regret over anti-Japanese protests in China in the last two days.
Mr Kan said he had requested protection for Japanese companies in China after reports said several company premises had been damaged.
Speaking in parliament, he said both sides needed to try to handle the situation calmly.
Beijing authorities also expressed "deep concern" over anti-Chinese protests held in Tokyo at the weekend.
"We told the Chinese authorities (the demonstrations) were regrettable and strongly urge (China) to ensure the safety of Japanese nationals and firms," Mr Kan said.
"There is a need for both (countries) to work calmly in deepening our strategic, mutually beneficial relations," he added.
He said Sino-Japanese ties are "a very important bilateral relationship".
Mr Kan's remarks follow reports that several Japanese business premises were damaged during demonstrations in some Chinese cities (Chengdu, Xi'an, Zhengzhou and Mianyang) in support of China's claims to disputed islands in the East China Sea.
The Japanese news agency, Kyodo, reported that protesters in Sichuan threw stones at a Japanese restaurant and broke the windows of Japanese-made cars.
Several thousand protesters carried banners with slogans such as "Overthrow Japanese imperialism" and "Protect the Diaoyu islands."
A Chinese foreign ministry spokesman Ma Zhaoxu said it was "understandable that some people expressed their outrage against the recent erroneous words and deeds on the Japanese side."
But he also said such views should be expressed rationally.
"We maintain that patriotism should be expressed rationally and in line with law. We don't agree with irrational actions that violate laws and regulations."
"We advocate properly resolving those issues through dialogue and making joint efforts to safeguard the strategic bilateral relationship or mutual benefit," Mr Ma said in a statement.
In Tokyo, demonstrators rallied against China's claim to the islands and delivered a note to China's embassy.
During Saturday's demonstration in Tokyo, hundreds of people carried banners reading "Japan is in danger" and "Don't forgive invader China".
The long-running row erupted into a full-blown diplomatic crisis last month when Japan seized a Chinese fishing boat and its captain after a collision in disputed waters.
The captain was accused of deliberately ramming two Japanese patrol boats. He was released after two weeks, and the two countries have since moved to ease tensions.
However China has demanded an apology over the incident - something Japan has rejected.
In the past Chinese authorities have orchestrated large-scale demonstrations over the uninhabited islands, which are known as Senkaku in Japan and may have rich oil and gas deposits.