Thai PM defends Democrat Party in corruption case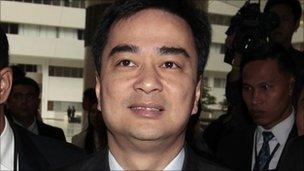 Thailand's Prime Minister Abhisit Vejjajiva has appeared in court as a witness in a corruption case involving his governing Democrat party.
The party is accused of misusing election funds in 2005.
If found guilty, the party could be dissolved which in turn would lead to the collapse of the current coalition government.
The case is one of two facing the Democrat party over financial irregularities.
Court decisions have already brought down two prime ministers in recent years and speculation is growing that Mr Abhisit could meet the same fate.
Mr Abhisit was officially in court to defend his party, but in effect he was also fighting for his political future.
The Democrats are accused of falling foul of strict election laws, spending more than was allowed on advertising during the 2005 campaign.
If found guilty, Thailand's oldest political party could be forced to dissolve and Mr Abhisit could be banned from politics for up to five years.
Court decisions have had a dramatic impact on Thai politics.
In fact Mr Abhisit only came to power after two previous prime ministers were forced from office by the judiciary, and two political parties allied to the fugitive former premier Thaksin Shinawatra were disbanded.
The outcome of this case could have far reaching implications, whatever the court's decision.
If the judges rule in favour of the Democrats, it will be interpreted by government critics as evidence of double standards.
If the court finds the Democrats guilty, the current government will fall.
Thailand could be facing another period of profound political uncertainty.