Tajikistan says restive east is under control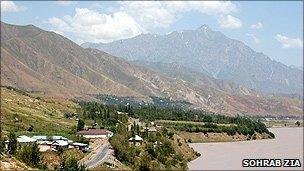 The Tajik government says it can control the situation in the restive east of the country, where it says three militants died at the weekend.
Foreign Minister Hamrokhon Zarifi said the situation had worsened but "not to the extent where it can threaten the country's national security".
He said the government had enough forces there to keep the situation "under control".
Tajikistan is battling Islamist militants in the east of the country.
Mr Zarifi said Russia, Kazakhstan and Turkmenistan had offered assistance, but outside help was not needed.
He also denied reports that the secret services of some foreign countries were involved in the unrest.
"I don't think that instability in Tajikistan would be advantageous to any country, because a fire started in one state can easily spread to the neighbours' territory," he said.
Tajikistan shares a poorly-protected 1,300km (800 mile) border with Afghanistan, and borders Kyrgyzstan, Uzbekistan and China.
On Sunday the interior ministry said government forces had killed three armed militants on the outskirts of the town of Garm, in Rasht district.
Officials said the three had taken part in an ambush on troops in September, killing about 28 soldiers. It said they were Tajik citizens who had trained abroad.
The al-Qaeda-linked Islamist Movement of Uzbekistan said it carried out the ambush, about 250km (150 miles) east of the capital, Dushanbe.
Earlier this month a military helicopter crashed in the Rasht Valley, killing at least 25 soldiers, military sources have said.
An official statement confirmed four of the deaths and said the helicopter crashed after hitting a power line.
Twenty-five prisoners, including several Islamic militants, escaped from a prison in Tajikistan in August.
The Rasht Valley region has been a stronghold of Islamist militants since the 1990s, when guerrillas fought the government of President Emomali Rakhmon.
Tajikistan is the poorest of the states to emerge from the collapse of the Soviet Union in 1991.
Related Internet Links
The BBC is not responsible for the content of external sites.