New Zealand's Christchurch hit by powerful tremor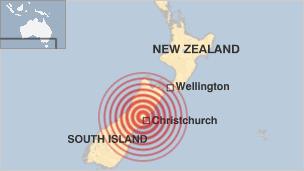 The New Zealand city of Christchurch has been shaken by a strong earthquake, six weeks after a more powerful tremor caused extensive damage.
The 5.0-magnitude tremor cut power and telephone services, and some residents fled into the streets, reports said.
The earthquake hit at about 1130 local time (2230 GMT on Monday).
Christchurch, on South Island, is still recovering from the damage caused by a 7.1-magnitude quake on 4 September, although nobody was killed.
The quake on Tuesday struck around 10km (six miles) south-west of the city and its epicentre was 9km (five miles) below the ground, the country's geological agency GNS Science said.
The city has been shaken by many aftershocks since last month's earthquake destroyed buildings and roads.
Some of Christchurch's most historic buildings were damaged beyond repair.
Related Internet Links
The BBC is not responsible for the content of external sites.