Chinese miners confirmed dead after gas leak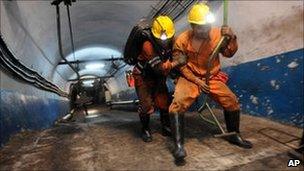 The bodies of the last five Chinese miners trapped underground in Henan Province have been recovered, bringing the final toll to 37.
Some 300 rescuers had been working since Saturday to reach the men after a gas leak at the pit in Yuzhou.
More than 2,500 tonnes of coal dust smothered the pit but 239 workers were able to escape, state media said.
China's mining industry is the most dangerous in the world - more than 2,600 miners were killed in accidents in 2009.
The government has shut down more than 1,000 illegal pits this year as part of efforts to improve safety standards.
China is heavily reliant on its mining industry, with coal supplying some 70% of its energy needs. Many of those employed in mines are migrant workers with limited training.
The colliery is owned by Pingyu Coal & Electric Co Ltd, the official Xinhua news agency reported.
The national work safety agency said the leak occurred as miners were drilling a hole to release pressure from a gas build-up as part of efforts to decrease the risk of blasts.
The gas concentration inside the mine was reported to have been at 40%, which is 40 times higher than normal acceptable levels.
A miner reported the finding to senior staff, but the warning was ignored, state media said.
The deputy leader of the rescue team, Du Bo, said that those who died were likely to have been buried by coal dust forced into the mine by the gas leak.
The accident comes just days after Chile's dramatic rescue of 33 miners trapped for more than two months underground.
The BBC's Michael Bristow in Beijing says coverage of the Chilean rescue was shown live on state-run television.
But the effort to find the trapped miners in Henan Province has not received extensive coverage, our correspondent says.
Relatives of the dead and missing miners have criticised the safety standards at the mine.
Related Internet Links
The BBC is not responsible for the content of external sites.