China renews appeal for looted palace relics return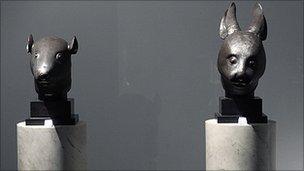 China has made a new appeal for the return of relics looted by British and French troops from the Old Summer Palace in Beijing 150 years ago.
Chinese cultural officials said that at least 1.5 million antiquities were missing from the palace, which is also known as the Yuanmingyuan.
Many of the artefacts are thought to be in museums and private collections.
Actor and martial artist Jackie Chan became the first person to sign a petition for the cause.
The appeal for the return of the relics was made by China's Yuanmingyuan park authority exactly 150 years after the looting of the palace.
In response, French Foreign Ministry spokesman Bernard Valero said "the pillaging of the Summer Palace was a tragedy", adding that the issue should be discussed calmly with China.
In its appeal, the Yuanmingyuan park authority also called for a boycott on auctions featuring the antiquities.
Last year, China had tried but failed to stop the sale of two bronze statues from the palace at an auction in Paris.
The sculptures - a rabbit's head and a rat's head - were part of a collection belonging to the late fashion designer Yves Saint Laurent.
Chinese officials say the animals represent the Chinese zodiac, and adorned a fountain at the palace.
The Yuanmingyuan was used by the emperors of the Qing Dynasty (1644-1911) as their summer resort garden.
Its sacking and burning by the British and French during the second Opium War on 18-19 October 1860 is seen in China as a cause of national humiliation at the hands of Western armies.
Related Internet Links
The BBC is not responsible for the content of external sites.