Typhoon Megi leaves 200,000 homeless in Philippines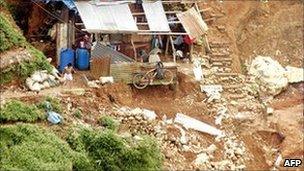 Typhoon Megi is gathering strength and heading towards southern China, meteorologists said, after leaving 200,000 Filipinos homeless.
The severe storm left a trail of destruction in its wake after hitting the northern Philippines on Monday.
Officials there said at least 200,000 people remained homeless with the cost to infrastructure still unknown.
The storm is described as the worst in many years, but predictions vary about where it will make next landfall.
The typhoon was originally heading westwards toward Vietnam, where heavy rains and floods have so far killed scores of people.
Its course has been edging northward however, with tens of thousands of residents evacuated in China's Hainan island and Guangdong province.
Some predications now suggest it could more northerly still, towards Taiwan.
People in the Chinese province of Guangdong and Hong Kong are stockpiling food ahead of the storm, which has been gathering strength over the South China Sea.
Ships and fishing boats have been told to stay in harbour, as Hong Kong's weather officials predicted winds of up to more than 185 km/hour(115mph).
In the Philippines, President Benigno Aquino praised his administration's response to Typhoon Megi.
He said that the thorough preparations had helped minimise loss of life, after at least 11 people died.
President Aquino said that by forward planning and accurate weather predictions, government agencies had been able to make a real difference to the level of destruction wrought by Typhoon Megi.
Before the storm, thousands of people were moved from low-lying areas, to avoid flash floods and landslides.
Evacuation centres were stocked with food and medicines, and the weather bureau gave hourly radio updates about the path of the storm.
Physical destruction has nonetheless been extensive - thousands of homes flattened, crops destroyed and roads and bridges damaged.
"Their food supply is only up to Sunday. But going there is very difficult. There is no road to reach them," the governor of the hardest-hit province of Isabela, Faustino Dy told reporters in Cauayan, northern Philippines.
The BBC's correspondent in Manila, Kate McGeown, says the Philippine response to this storm was in stark contrast to that of past disasters.
A typhoon of similar magnitude hit the Philippines in 2006, and more than 1,000 people died.
Earlier this year, the weather bureau was heavily criticised for failing to predict that a typhoon would hit Manila, leaving the capital completely unprepared.
Related Internet Links
The BBC is not responsible for the content of external sites.