Deal reached to end logging in native Tasmanian forests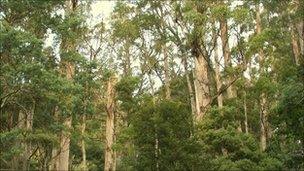 Environmentalists and the timber industry in Tasmania have reached a deal to end logging in the Australian island state's native forests.
The deal puts a virtual immediate end to logging in the most pristine areas.
It will be gradually phased out in all other native Tasmanian forests.
The agreement follows a three-decade conflict between conservationists and loggers.
Green groups, trade unions and the forestry industry reached the deal after talks lasting five months.
A timetable for a shift to plantation logging is one of the key details that will have to be agreed in further negotiations.
However, forestry chiefs have warned that it could take up to 30 years before plantations are able to supply hardwood timber of sufficient quality and quantity.
Terry Edwards, chief executive of the Forest Industries Association of Tasmania, said: "This will not be a rapid withdrawal from native forest harvesting."
Reports say the agreement is based as much on economic realities as a desire to end conflict.
With demand for environmentally-friendly timber soaring in Tasmania's biggest market, Asia, the forestry industry is in decline.
The election of a Labor-Green coalition in Tasmania in April was also a turning point, signalling to the industry that it could no longer rely on the unconditional support of the state government.
The deal was presented to the Tasmanian premier, David Bartlett, on Tuesday.
He said: "We've seen decades of division and deep animosity between many of the people and the organisations they represent who sat around the table this afternoon, but today we have taken a small but unprecedented step towards giving Tasmanian timber workers and their families some hope and some certainty in what is a rapidly changing world market."
There are fears that some sawmills may face closure as Tasmania moves to a plantation-based timber industry.
The state government is expected to seek federal assistance to help forestry contractors and workers affected by the new deal.
But Phil Pullinger, who is director of one of the deal's signatories, Environment Tasmania, said: "We believe that we can have an outcome, a solution, where we both secure the jobs of timber workers in Tasmania and we also protect Tasmania's native forests."
Tasmania is home to some of the world's tallest trees, including the Centurion, a giant swamp gum or eucalyptus regnans, which is more than 100m tall.
Logging of the native forests has led to clashes between environmentalists and forestry workers. It is estimated that tens of thousands of hectares have been cleared over the past 25 years with much exported as wood chips.
Eco-politics have a long history in Tasmania, with the Tasmanian Greens claiming to be the world's first Green party.
Related Internet Links
The BBC is not responsible for the content of external sites.