Filipino man found dead in plane toilet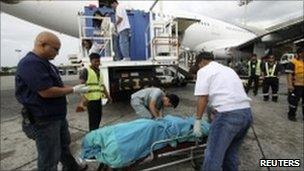 A Filipino passenger has been found dead in the toilet of a plane flying from Bahrain to Manila.
Crew members on the Gulf Air flight say they found the 36-year-old man with a cord tied around his neck just minutes before the landing.
The man - whose name has not been released - was officially pronounced dead by medics after the plane landed in Manila.
Police are now investigating whether it was a suicide.
Officials say the man was working as a technician in the United Arab Emirates and was returning home. They gave no further details.
It is the second unusual incident involving a Gulf Air plane in the Philippines in two months.
In September, a newborn baby was found in an airliner rubbish bag.
The baby boy - who arrived in Manila from Bahrain - was covered in blood and wrapped in tissue paper, with his umbilical cord still attached.
The boy was treated in hospital, and officials said he was in good health.
Police later found the mother, a Filipino national. She claimed she decided to abandon her son because she had been raped while working overseas.
Related Internet Links
The BBC is not responsible for the content of external sites.