Latvia solves Chinese deer puzzle after Estonian call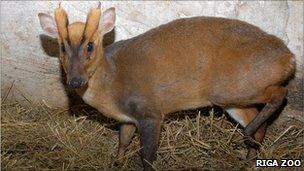 A zoo in Latvia has solved the mystery of a Chinese muntjac deer which was discovered in the Baltic state.
Zoo workers had been wondering how it got into the country as there are no recorded populations of the deer in Latvia.
Following press reports a man in neighbouring Estonia came forward, who said it had escaped from his private collection across the border.
The deer was found by children in Balvi in the east of the country.
Wildlife officials took the animal to the zoo in the Latvian capital, Riga.
Guna Vitola, the animal collection manager there, told the BBC that the Estonian man had contacted them by phone on Wednesday morning.
"He said the deer had escaped from his collection at Jaaniraotu in south eastern Estonia on 18 August," she said.
Ms Vitola added that the deer was in good condition, especially given that he had been missing for two months and was more than 100km (60 miles) from home.
She said he was about one-and-a-half years old, and had been given the name Patriks.
"Patriks will be repatriated to Estonia after all the necessary veterinary checks have been carried out and a valid health certificate has been issued," she said.
It is not the first time the zoo has had to deal with an exotic animal found in the wild in Latvia. Last year it found a home in Finland for a crocodile that had been discovered in a ditch.
Wildlife experts say muntjac deer are native to south-east China and Taiwan, but were introduced to parks in the UK in the early 20th Century and escapees have since established wild populations there.
Related Internet Links
The BBC is not responsible for the content of external sites.