Burma court to hear Suu Kyi appeal over house arrest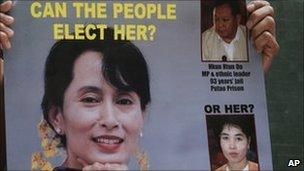 Burma's highest court has agreed to hear a final appeal against the house arrest of pro-democracy leader Aung San Suu Kyi.
Ms Suu Kyi's current sentence ends on 13 November, but her lawyers said they wanted her conviction quashed.
It relates to a 2009 incident when a US man paid an uninvited visit to the house where she is being detained.
The move comes as Burma prepares to hold its first elections in two decades.
The polls will be held on 7 November. Ms Suu Kyi's party, the National League for Democracy (NLD), won the last election in 1990 but was never allowed to take power.
Aung San Suu Kyi has spent most of the years since then under house arrest. The NLD was forced to disband earlier this year after it said it would boycott the elections because of laws favouring the military.
It is not clear when Ms Suu Kyi's appeal before the Special Appellate Bench will be heard. Two previous appeals have been rejected.
She was sentenced to an additional 18 months of house arrest last year after John Yettaw, a US man, swam uninvited across a lake to visit her.
"We believe that Daw Aung San Suu Kyi will be released on 13 November, but we are pursuing this legal battle to prove her innocence," her lawyer Nyan Win said.
Burma's military rulers could yet extend her detention but there is speculation that she may be released once the polls have taken place.
The generals say the elections are the final stage in their lengthy "roadmap to democracy" that will return the country to civilian rule.
But critics say the election is a sham designed to perpetuate military rule, albeit in civilian guise.
In a separate development, the military government has unveiled a new national flag.
The flag - a white star on stripes of yellow, green and red - was raised in government offices at 1500 local time, shortly after an announcement on state television.
It replaces one introduced by former military leader Ne Win in 1974.
Related Internet Links
The BBC is not responsible for the content of external sites.