China online game allows people to fight officials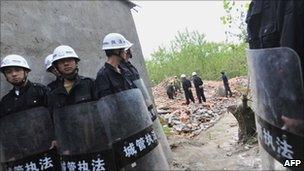 A new online game is taking the internet by storm in China.
The game, called Pedlar vs City Enforcers, pits street vendors against officials trying to remove them.
The enforcers are often accused of using excessive force against unlicensed street traders.
Another game mirroring reality has residents taking a stand against forced evictions. The games are popular because they let players vent their frustration against the authorities.
The new game starts with a girl working at a roadside stall.
To protect her business, she will have to defeat 10 waves of attacks by the semi-official enforcers, known as chengguan.
Other figures in the game include laid-off workers, petitioners, and the so-called nail households that make a stand against forced demolition.
As the game sweeps through cyberspace, reports from China say that local enforcers injured pedlars in Zhengzhou and Wuhan in central China, leading to angry crowds overturning their vehicles.
The game may have found inspiration in another hugely popular game released last month in which a family must fight off a demolition crew trying to tear down their home.
Such forced relocations have also aroused widespread anger.
Some Chinese internet users are asking: "Can venting frustration and anger virtually work when there is too much unfairness and injustice in the real world?"