Drugs trade ravaging restive Kyrgyz city
The southern Kyrgyz city of Osh saw violent ethnic clashes in June. But the city has other problems - it is also a major hub for Afghan heroin on its way to Europe. Rayhan Demytrie has been investigating the impact of drug trafficking on the region.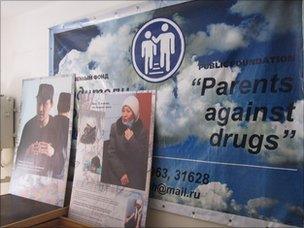 A group of volunteers are smoking cigarettes outside a needle distribution centre in Osh.
Most of them are former drug addicts.
"When we started taking drugs, we watched films, saw people snorting drugs through dollar bills and we thought it looked so cool," says Oleg.
"We did not know what it might lead to. But now those who are starting up can see what it leads to and yet they still do it."
Yulia, standing nearby, blames a lack of jobs.
"There is nothing to do, there is no work. Young people don't have anything to do," she says. "They will try it once, twice and then the third time they are already hooked."
Osh - the centre of ethnic fighting in June between the Kyrgyz and Uzbek communities - is one of the drug capitals of Central Asia.
A quarter of the world's heroin is believed to travel through Central Asia on its way to Russia and Europe. Osh is a key hub along the route.
Mamasabir Burhanov, who set up the needle distribution project, says the growth in heroin users is linked to the collapse of the Soviet Union.
"In Soviet times the borders were strong and drugs didn't get through. With the collapse of the Union, the borders got much weaker. Drugs offered such good profits, and lots of people got involved in trafficking," he said.
"The resources we have to fight against the drug traffickers here are like a sling against a tank. We don't have enough resources to stop the drugs that come through our country."
Most who know the region well believe that serious money is generated in the south through criminal activity, especially the drug trade.
"There is no other business here," says Radmir, a local journalist.
Driving through town on the way to distribute clean syringes, Oleg points to the home of a drug dealer.
"Everybody in Osh knows who he is. He's been selling hashish, opium and heroin since the early days. And what's most important is that he will keep selling it," he says.
At the syringe collection point, heroin addicts were quick to condemn local police.
"They detain us for carrying small amounts of drugs even though we have ID showing that we are heroin addicts. Why don't they detain drug dealers?" said one.
"They bring drugs to drug dealers and profit from sales, it's a red town. It means it is controlled by the police," said another.
At the city's Ministry of Internal Affairs, the deputy head of the anti-narcotics department played down the corruption allegations.
Melis Mamasaliyev said there had not been any such cases this year. But he was willing to talk about successes.
"Our biggest seizure was in May - over 100kg, more than half of it was heroin," he said
"Immediately after that we had the inter-ethnic conflict in June. Since then we haven't been able to concentrate on drugs - because we've been involved in dealing with the conflict."
It is true that it has been a year of political and social unrest in Kyrgyzstan.
President Kurmanbek Bakiyev was ousted in popular protests in April, leaving an interim government in charge of a fragile nation.
A struggle developed in the south - Mr Bakiyev's home region - between the former president's supporters and new political leaders in Bishkek.
Old ethnic tensions between Kyrgyz residents and ethnic Uzbeks were exploited. Organised crime, corrupt politicians and those who benefited from drug money are suspected of having played a hand in the violence.
Criminal gangs who thrive on the heroin trade are believed to have influence and protection among government officials.
In 2009 after noted successes, Mr Bakiyev's decision to shut down Kyrgyzstan's Drug Control Agency (DCA) strengthened the widespread suspicion that gangs enjoyed the patronage of powerful government figures.
Vitaliy Orzaliyev, who was the deputy head of the DCA, says his agency was becoming too successful and independent.
"Just a few months before the closure there were a few successful seizures, including liquid heroin called the Tears of Allah which fetches 45,000 euros ($63,000) per kg," he said.
"Another 200kg of heroin that we tracked was seized in Russia with a street value of around 6 million euros, huge money."
The Drug Control Service has since been reinstated by current Kyrgyz leader Roza Otunbayeva. Mr Orzaliyev is now heading the unit.
"Ms Otunbayeva said at the UN General Assembly in September that one of the reasons for the disorders in June was the fight against the drug channels, the transit, and fighting between drug clans," he said.
"When the Bakiyevs were overthrown and the authorities were weakened, no-one was monitoring organised crime. They were left to their own devices, and different interests were in play. They had money to support one side or the other."
Regional observers say the trend in which drug gangs seek protection from figures in the government may continue.
According to Paul Quinn-Judge, the Central Asia director for International Crisis Group, organised crime and narcotic groups may already be looking for a new set of patrons.
"They have to make sure that drugs continue to flow through here in the way they had in the past. Having very high-level protection as they had here in Kyrgyzstan, they were probably feeling rather spoiled. So we assume that the narcotics dealers are looking for a similar deal in the future," he said.
In Kyrgyzstan's recent parliamentary elections many of Mr Bakiyev's allies from the south were re-elected. They are now seeking office in a possible coalition government.
It is not clear yet how high the fight against organised crime or drug trafficking will be on the new government's list of priorities.