Typhoon Megi triggers deadly Taiwan landslides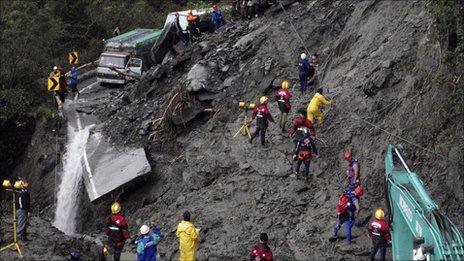 A tourist bus was feared buried and three people were killed in multiple landslides as Typhoon Megi brought torrential rain to Taiwan.
A torrent of mud struck a Buddhist temple in Suao, killing three people and leaving six more missing.
Teams are also searching for a Chinese tourist bus feared buried when landslides struck a coastal highway, causing it to partially collapse.
The landslides stranded 400 drivers; half have now been taken to safety.
Typhoon Megi caused havoc in the Philippines, killing at least 26 people and causing extensive damage to houses in some regions.
The storm is now heading for south China's Fujian province, where flights have been cancelled, fishing vessels recalled to port and more than 100,000 people evacuated from low-lying areas.
In Taiwan, Megi brought 45 inches (114 cm) of rain to Ilan county in the northeast over a 48-hour period.
In Suao city, rescue teams dug through mud at the White Cloud Buddhist temple in search of six people believed to be trapped.
A search was also under way for a bus carrying 19 Chinese tourists.
It was known to have been travelling along a highway in Ilan that was hit by multiple landslides, causing a 500m section to collapse.
Air force helicopters were searching for the bus, while other teams were helping to evacuate drivers and passengers in other vehicles stranded on the highway by the rockfalls.