'Soft power' raises Taiwan's profile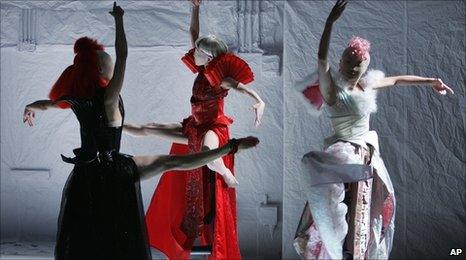 Often mistaken for being under China's sovereignty and sometimes even for being Thailand, Taiwan is pushing hard to stake out a more distinct international image.
In the past year, even as relations with China have improved, Taiwan's government has been stepping up efforts to raise the island's profile.
It is part of a strategy promoted by President Ma Ying-jeou, who says Taipei must increase its so-called "soft power" if it is to stand on the international stage.
The strategy is wide-ranging. It includes developing globally famous brands, boosting Taiwan's presence not only in the high-tech sector but also in arts, food and fashion, and marketing great things about Taiwan.
As a result, the government has poured millions of dollars into supporting performance troupes, filmmakers and even pop singers.
Some of them have enjoyed regional or international acclaim, including a government-funded film that won an award at the Berlin International Film Festival this year. There are plans to spend $200m (£128m) to help the movie industry.
Money has also been allotted for promoting tourism, and not just to boost economic growth.
Previously content with being just a manufacturer of the world's high-tech products, Taiwan now wants to be a place where everybody wants to visit and get to know.
Not promoting itself in the past partly explains why it only gets about four million visitors a year - much less than the smaller Singapore.
So in the past year, Taipei has touted Taiwan's tourism wonders on advertisements on London buses, the BBC and CNN, and high-profile places such as New York's Time Square.
The government also promotes Taiwan abroad through cultural festivals and culinary events, including in Britain and Canada.
The state-funded wire service, the Central News Agency, meanwhile, has been revamped. It now offers its stories written in English about Taiwan on Google and - for the first time - English video news about the island.
At the same time, Taiwan's government continues to provide generous humanitarian assistance to countries struck by disasters.
It has also sent First Lady Chow Mei-ching on more official visits overseas than most Taiwanese first ladies go on - including to Germany, Italy and Haiti, where she promotes Taiwan's performance troupes, reads stories to children, and hugs disaster victims.
And later this year, Taiwan will open Taiwan Academies - similar to the British Council - to promote Taiwanese culture and the learning of Chinese language abroad. These schools will be opened partly in response to the hundreds of Confucius Institutes China established overseas in recent years.
"It's soft power. Taiwan no longer depends on diplomacy or the military to boost its power. We want to do more to contribute to the world. We'll use our resources to promote Taiwan," says former presidential office spokesman Wang Yu-chih.
Analysts believe these efforts are partly aimed at distinguishing Taiwan from China and ensuring the world does not forget the democratic and self-ruled Taiwan's cause - to be recognised as a country and included in international decision-making bodies.
"Like European countries, which are not militarily strong, this sort of thing raises their image," says Kou Chien-wen, a political science professor specialising in Taiwan-China relations at National Chengchi University in Taipei.
"Take Norway for example, it has the Nobel peace prize; when we think of it, we think well of it. Finland has Nokia, which also helps that country's image."
It is feared that not having a noticeable presence in the international community could hurt the island of 23 million people if there is conflict with its giant neighbour China - which considers Taiwan part of its territory which should be eventually reunited.
"Taiwan will be considered politically unimportant, economically unimportant, and culturally unimportant. That's a crisis for Taiwan," says Mr Kou.
"A not so well-known country invaded by a bigger country... People around the world would care if they know more about Taiwan and if they think Taiwan is different from China."
Besides the government, Taiwanese people also have a strong desire for Taiwan to be recognised.
Many are irked when people assume they are from China or when maps lump Taiwan as a part of China.
Taiwanese citizens who succeed on the international stage often take the chance to promote Taiwan.
Athletes, for instance, drape Taiwan's national flag over themselves in awards ceremonies, even though that flag is not used in the Olympics or other gatherings of nations, due to China's objections.
Government efforts aside, individual Taiwanese people have in some ways done more to gain fame for the island this year.
They include golfer Yani Tseng, who shot to fame after becoming the youngest player in LPGA history to win three major championships; Lin Yu-chun, an amateur singer who received millions of views on YouTube; and Chen Shu-chu, a vegetable seller named one of Time Magazine's 100 most influential people for her philanthropy.
Mr Ma has seized the opportunity to praise them for boosting Taiwan's image.
Even when people who had left Taiwan years ago become famous - such as American fashion designer Jason Wu of Michelle Obama-inauguration dress fame - the president misses no opportunity to highlight their Taiwan connections.
He gave Mr Wu star treatment on his recent visit here, meeting him at the presidential office and lavishing praise on him.
The effects of Taiwan's efforts to boost its profile may be too early to tell.
For many Taiwanese people, success will depend on whether Taiwan is included in international organisations. Attempts to join them in the past had been blocked by China.
After Taiwan began improving ties with Beijing in 2008, it was allowed to participate in the World Health Assembly - the decision-making body of the World Health Organization, as an observer.
But it is still excluded from other international organisations, such as the International Civil Aviation Organization (ICAO) - which deals with flight safety - and the United Nations Framework Convention on Climate Change (UNFCCC).
Ultimately, many Taiwanese people want Taiwan to be given what they see as its rightful status and long overdue inclusion in global affairs.
"We are a country; why can't we be recognised as such?" asked elementary school principal Chen Shu-chuan, reflecting the views of many Taiwanese people.
Related Internet Links
The BBC is not responsible for the content of external sites.