Missing bus tourists sought in typhoon-hit Taiwan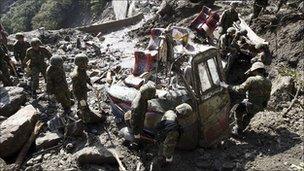 Rescue workers in Taiwan believe they have found the remains of a bus carrying 19 Chinese tourists which went missing as Typhoon Megi hit the island.
The passengers, along with their guide and driver, are among 25 people still missing following the powerful storm.
Megi cut a path of destruction through the Philippines and Taiwan last week, triggering landslides and flooding.
The storm, a super typhoon at its peak, has weakened to a tropical depression as it lashes China's south-east coast.
More than 310,000 people have fled their homes in the coastal region. No casualties were reported but infrastructure was badly damaged.
The bus carrying the Chinese tourists had been travelling along a highway hit by multiple landslides in Taiwan's Ilan county in the north-east. A large section of the road collapsed.
More than 200 rescue workers have been combing the mountainside and coastal area on foot, looking for the missing people.
There were concerns the bus could have been swept out to sea, so boats and helicopters were also despatched.
The mangled remains of the bus have now been uncovered. Rescue workers say they have also found body parts in the area but none of the passengers has been identified.
Relatives of the missing people have called on Taiwan to do everything possible to find them.
"If they were alive, we want to see them in person. If they were dead, we want to see the bodies," the brother of missing tourist Yuan Min told reporters.
"But if things went wrong, we hope to be able to bring all their belongings back."
There have been questions about why the authorities did not close the notoriously dangerous road during the bad weather. The families have also accused the tour company of not taking enough safety precautions.
One relative was quoted by the Associated Press news agency of saying the families "unanimously believed it was 30% a natural disaster and 70% a disaster caused by human errors".
Megi brought 45 inches (114 cm) of rain to Ilan county over a 48-hour period last week.
Nine people were buried when a torrent of mud struck a Buddhist temple in Suao. Three others drowned in their homes.
The driver and guide of a second tour bus are also missing, after the bus plunged off a highway, the BBC's Cindy Sui in Taipei reports.
The passengers of that bus managed to escape just in time.
Typhoon Megi earlier caused havoc in the Philippines, killing at least 28 people and causing extensive damage to houses in some regions.
Megi has now weakened to a tropical depression and is approaching southern China.
In Fujian province, flights were cancelled, fishing vessels recalled to port, and 313,700 people were evacuated, as the storm dumped up to 13in (33cm) of rain on coastal villages.
Some 2,000 fishing vessels were reported to have been destroyed, trees uprooted and farmland flooded.