New Zealand boy, 13, admits killing friend aged 11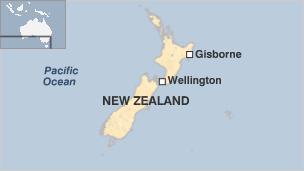 A 13-year-old boy in New Zealand has admitted a manslaughter charge, becoming one of the country's youngest killers.
The boy, who cannot be named for legal reasons, was 12 when he shot his 11-year-old friend with a semi-automatic rifle in July last year.
He was initially charged with murder.
But the indictment was changed after police experts said they could not exclude the possibility that the weapon discharged accidentally.
The shooting happened on a remote farm in the country's North Island.
On Tuesday, the High Court in Gisborne heard how the boy told his victim - who also cannot be named - not to "get cheeky" during an argument about who should take a knife on a hunting trip.
The weapon then went off.
The bullet entered the victim's left shoulder and went through his right armpit. The victim's trachea was destroyed and he died immediately, the New Zealand Herald newspaper reports.
Judge Forrest Miller later ruled that it was appropriate to convict the boy after hearing experts' evidence that the boy was capable of distinguishing right and wrong.
On Tuesday, the boy's father also pleaded guilty to perverting the course of justice after admitting that he had tried to cover up for his son.
The two are expected to be sentenced on 7 December.
In 2001, another 12-year-old boy in New Zealand was convicted of manslaughter after the fatal beating of a pizza delivery man.