Daughter pleads for missing China lawyer Gao Zhisheng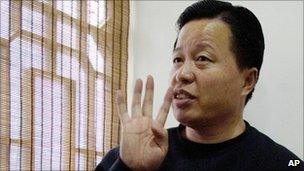 The teenage daughter of one of China's most prominent human rights activists has appealed to President Barack Obama for help.
Grace Geng said nothing had been heard of her father, Gao Zhisheng, since he was kidnapped by Chinese state security agents six months ago.
She made her appeal in an open letter, saying her father had been tortured and she too had been beaten by police.
Mr Gao, a lawyer, is one of China's leading human rights defenders.
Seventeen-year-old Grace Geng opens her letter to Mr Obama with the words: "Six months ago last week the Chinese government kidnapped my father. He was abducted for exercising his right to freedom of speech."
In the letter, published by the Wall Street Journal, she says: "President Obama, as the father of two girls yourself, please ask President Hu Jintao of China to tell this daughter where her father is."
Gao Zhisheng became one of China's most prominent human rights lawyers by defending controversial cases, including Christians and Falun Gong members who claimed they were being oppressed.
He was barred from practising as a lawyer, then abducted. He said he was tortured by state security agents.
Grace Geng says she too, aged 12, was beaten by police and barred from going to school; she finally fled China with her mother and brother last year.
She ends her letter by saying: "If the Chinese government has murdered my father, I beg President Obama to ask President Hu to let us bury him."
Human rights advocates often cite Mr Gao's case along with that of Liu Xiaobo, the jailed academic awarded the Nobel Peace Prize earlier this month, as examples of what they say is the Chinese Communist Party's increasing persecution of human rights defenders in China.