New Zealand mine: Scottish miner 'a joy to work with'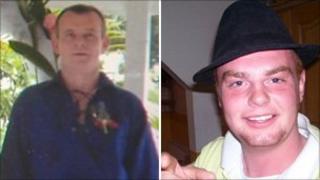 The family of one of two Britons missing after a blast in a New Zealand mine have been told by the head of the firm that he is a "joy to work with".
Peter Rodger, 40, and Malcolm Campbell, 25, both from Scotland, are among 29 miners who have been trapped at the South Island coal mine since Friday.
Pike River Coal chief executive Peter Whittall said he had spoken to Mr Campbell's parents in St Andrews, Fife.
Dangerous toxic gases have prevented the rescue from beginning.
Drilling has started on a 15cm (6in) wide ventilation shaft. Rescuers hope to send a camera down once the hole is finished to see if the men are nearby. They also hope to test gas levels.
So far police have said there are still too many combustible and noxious vapours present for rescuers to safely enter - despite fresh air being pumped down through an air line.
"The situation remains grave, given we've had no contact from the men for more than three days," said Supt Gary Knowles.
"We remain optimistic," he said. "This is a search and rescue operation. We're basically going to go in there and bring these guys out."
But at a later press conference he said the authorities were preparing for all outcomes, including "possible loss of life".
New Zealand's Prime Minister John Key said at the earlier news conference on Monday that there was "every chance" the men were still alive.
Also speaking on Monday, in reference to Mr Campbell's parents, Mr Whittall said: "I've spoken to one of the families in Scotland this morning and I could relay very personally the state of that guy and what a joy he is to work with.
"They're very personal to all of us and all of my staff."
'Adventurer'
Mr Campbell is due to marry his fiancee, Amanda Shields, who is 23, on 18 December.
Mr Rodger, a former Perth Grammar School pupil, emigrated to New Zealand two years ago to be closer to his mother and sister who live there, according to the Courier newspaper.
He was formerly an offshore oil engineer.
Gary Fraser, a friend of Mr Rodger, told the BBC he was a "strong character" and that this was the second time he had been trapped in recent months.
Mr Rodger's New Zealand-born girlfriend, Dianne Morris, wrote on Facebook: "Just got to keep having positive thoughts."
And another friend, John Daniel, 59, told the Sunday Telegraph he was an adventurer who loved life.
"I'm just shocked he is caught up in all this," he added. "Peter just wanted to make the most of his life and just took everything as it came."
Mr Campbell's parents are understood to have left Fife for New Zealand.
Earlier, his father - also called Malcolm - told STV News the family would "keep hoping everything will be fine".
"We can't concentrate on anything, we can't sleep because it's difficult," he added.
Scotland's First Minister Alex Salmond told BBC Reporting Scotland the government was "concerned obviously for the fate of all 29 of the miners who are trapped".
"But the fact that two Scots are among them, and two Scottish families have that immediate concern, makes that all the more immediate for people across Scotland.
"There's no more we can do than send our best wishes for rescue."
UK Prime Minister David Cameron and Prince William have both contacted Mr Key to offer support.
There has been no contact with the miners since the explosion at about 1530 local time (0230 GMT) on Friday.
The missing workers range in age from 17-year-old Joseph Dunbar - reportedly on his first shift - to 62-year-old Keith Valli.
There are 24 New Zealanders, two Australians, and a South African national, as well as the two Britons.
The names of all of the 29 missing men were read out at the press conference by Supt Knowles, who added: "It's very important that we start putting names to our people so that people know who they are and they're not nameless faces."
Each miner carried 30 minutes of oxygen, enough to reach oxygen stores in the mine that would allow them to survive for several days, officials from Pike River Coal, the mine operator, have said.
The natural hazards associated with coal mining include the build-up of methane and the risk of spontaneous combustion.
The mine, which employs 150 people, has been operational since 2008 and runs deep under the Paparoa Ranges on the rugged western coast of the South Island.