Indonesia sex tape star goes on trial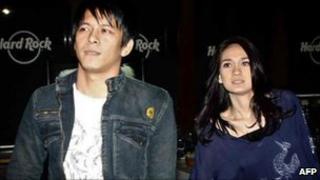 One of Indonesia's top celebrities has gone on trial for his alleged role in sex videos which appeared on the internet.
Pop star Nazril "Ariel" Irham has been charged under Indonesia's controversial anti-pornography law.
The 29-year-old could face 12 years in jail for the two home-made films, which are said to feature him and two female companions.
The scandal has attracted huge attention in Indonesia.
Some say it highlights the stringent nature of Indonesia's anti-pornography law, enacted in 2008 after considerable debate.
'Moral decline'
Others - including hard-line Islamic groups - say it is an example of moral decline among young people in Indonesia and should be dealt with harshly.
Ariel has been in custody since surrendering to police in June.
Ahead of his trial in Bandung, West Java, he urged fans not to come to the court to avoid clashing with an Islamic group that planned to protest there.
But about 500 people nonetheless gathered outside the court as proceedings were held behind closed doors, AFP news agency reported.
The singer was accompanied by his girlfriend, TV presenter Luna Maya, who is said to be the woman in one of the two videos.
The woman alleged to appear in the other, Cut Tari, is a soap opera star previously linked to the singer.
The two women are not facing charges. All three deny involvement in the sex tapes.