US and South Korea to hold joint military exercise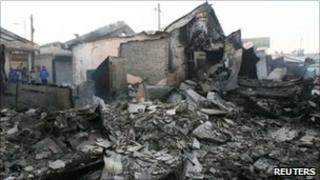 The US and South Korea are to hold joint military drills after an attack on a South Korean island by the North.
At least two South Korean soldiers died when the North shelled Yeonpyeong island, near a disputed sea border.
In a phone call, the US president assured the South Korean president of his country's firm and full commitment to the defence of an ally.
A US aircraft carrier with 75 warplanes left a naval base south of Tokyo on Wednesday, bound for Korean waters.
The nuclear-powered USS George Washington has a crew of more than 6,000. The US has a total of some 28,000 troops stationed in the South.
US officials in Seoul said the joint exercises would begin on Sunday and continue until the following Wednesday, according to US officials in Seoul.
"This exercise is defensive in nature," US Forces Korea said in a statement, according to Reuters.
"While planned well before yesterday's unprovoked artillery attack, it demonstrates the strength of the South Korea-US alliance and our commitment to regional stability through deterrence."
'Ongoing threat'
US President Barack Obama has strongly condemned North Korea's shelling of the island and said the country was "a serious and ongoing threat that needs to be dealt with".
South Korea returned fire after the attack and threatened missile strikes if there were "further provocations".
Mr Obama described South Korea as an important ally and "a cornerstone of US security in the Pacific region".
He said: "We strongly affirm our commitment to defend South Korea as part of that alliance.
"We want to make sure all the parties in the region recognise that this is a serious and ongoing threat that needs to be dealt with."
He called on North Korea's ally China to communicate to Pyongyang "that there are a set of international rules they need to abide by".
South Korea's military had been carrying out an exercise near Yeonpyeong, but it denies opening hostilities by firing towards the North.
Two South Korean marines died when dozens of artillery shells landed on the island early on Tuesday - most of them hitting a military base. Both soldiers and civilians were wounded.
The South fired back some 80 shells. Casualties on the northern side are unknown.
The UN's secretary-general, Russia, the EU and the UK have all condemned the North's attack.
The South Korean president called the incident "an invasion of South Korean territory", and warned that future provocations could be met with "enormous retaliation", including missile strikes on North Korean positions.
There have been occasional cross-border incidents since the Korean War ended without a peace treaty in 1953, but the latest comes at a time of rising regional tension.
North Korea's reclusive leader Kim Jong-il is thought to be ill and trying to ensure the succession of his youngest son.
The western maritime border, also known as the Northern Limit Line, has been the scene of numerous clashes in the past.
In March, a South Korean warship sank near the border with the loss of 46 lives. International investigators say a North Korean torpedo sank the ship, although Pyongyang has denied any role in the incident.