New Zealand mine disaster: Your views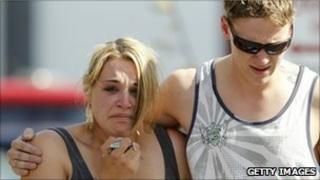 All 29 miners trapped in a coal mine in New Zealand are believed to be dead after a second explosion at the Pike River mine on South Island.
Police superintendent Gary Knowles who was co-ordinating the rescue efforts said there was no hope that anyone could have survived the "massive" underground blast.
New Zealand Prime Minister, John Key said the loss of life was a national tragedy.
BBC News website readers in New Zealand and neighbouring Australia have emailed their reaction. Here is a selection of their comments:
Your comments
It's amazing to see the support that everyone is showing each other whether they knew the men or the families or not. For the first time in memory the whole six o'clock news hour was dedicated to this tragedy without any world news or weather. This is the only time in my life I can remember this happening. We are a small country and it is amazing to see how we have banded together in such a time. Greymouth is only around four hours away from Christchurch. Flags tomorrow will be at half mast. RIP to the miners of Pike River Mine. Kate Macdonald, Christchurch
All I want to do is cry. All we've been doing as a country since Friday is waiting for news, hoping and praying for good, but preparing for bad news. I can't begin to imagine what it's like to love someone who was down that mine and be told that until all is OK, no one can help - sit tight and wait. I know they couldn't do anything and the reasons why, but we all wanted so badly for it to be OK. Sarah, Auckland
New Zealand is like a close-knit family. It's small enough to still feel like we all live in the country and know everyone. Pike River has touched the whole country, everyone knows someone who either worked there or who works in a mine. We have all watched and checked online, in horror and hope that those men would come out. It is the most devastating outcome - we all feel it. Anna Pashby, Waiheke Island
We are greatly saddened by this terrible tragedy. We lived in New Zealand for three years until May this year. We visited Greymouth just briefly on a rail trip across from Christchurch and used to see the coal wagons as they came east, ready to go to the port at Lytton and off to Korea. New Zealand is a beautiful country and has some wonderful people, but pays heavily for its economy and this will hit everyone very hard. Our deepest sympathy goes to the two Scotsmen, especially the one who was about to be married. Patricia and Ivan Hammond, Australia
We have been watching this story very closely, as we do whenever something like this happens, as we are both in the mining industry in Queensland and feel very close to those concerned with this tragedy. Our sincerest condolences go to the families and friends of all the miners. May they rest in eternal peace. Carole and Les Napier, Queensland
This has knocked the socks off all Kiwis. I'm sitting here without a tear - it's just too unbelievable. My dad was a miner and lost his friends in the Strongman disaster [in 1967]. Greymouth is a tiny town and this has devastated the community. Jannette Walsh, New Zealand
While the world is still overjoyed with the successful rescue of the 33 Chile miners who turned into celebrities overnight, the sad fate of the 29 New Zealand miners comes as a traumatic anti-climax. My deep condolences go to the New Zealanders. Zi Zenn, Sydney