What went wrong at Pike River mine?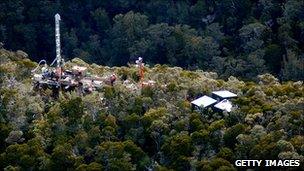 Following the very, very tragic accident in New Zealand, there will be the obvious comparisons between the events in Chile and New Zealand. But really, there is no comparison.
Chile was a hard-rock mine where the hazards are man-made. These can be controlled by ensuring high standards are adhered to and good planning.
With coal mining, there are additional hazards that occur naturally, such as methane, spontaneous combustion (fire), carbon monoxide and hydrogen sulphide and, because it is a soft-rock mine, the strata around the coal needs to be supported.
All of these are controllable by high standards, regulation and good management. But what could have gone wrong?
The initial explosion last Friday was a methane gas explosion, but the ventilation shaft should have ensured that methane did not build up to dangerous levels.
Methane gas is explosive in atmospheric ratios between 5% and 15%. In coal mines in the UK, we aim for less than 1% methane. At 1.25%, the power automatically cuts off, and at 2%, all miners are evacuated.
At Pike River, the fact that there was an explosion suggests the methane reached 5% or more. So, either the warning system was inadequate, or it was not sufficiently monitored.
Once the initial explosion occurred, the following would have been lost:
Communication
Monitoring of the mine atmosphere
Ventilation
In such cases, it means that rescuers don't have much information to work with.
In the case of Pike River, what they would have done immediately is gone to the return ventilation side of the mine and taken samples.
That would have told them how much methane, carbon monoxide and hydrogen was in the atmosphere at that point. What it would not have told them was what the conditions deep inside the mine were - which parts were safe and which weren't.
The explosion might have damaged ventilation equipment such as fans, ventilation doors and seals. It might also have caused rock falls.
The miners would have been trained in these situations to travel towards a safe haven. If this couldn't be reached, the hope is that they would have barricaded themselves in somewhere away from this toxic and noxious environment.
At this point, the rescuers would have had to decide whether it was safe enough to deploy a rescue team into the mine to gain the information they desperately needed.
This did not happen at Pike River, so clearly the information obtained from the return side samples indicated that it was too dangerous to enter the mine.
Some people have accused rescuers of being too cautious, questioning whether a window of opportunity had been missed. They insist that emergency teams should have been sent into the Pike River mine soon after the initial explosion.
The team would have had access to breathing apparatus - what we call long duration sets. These weigh 17kg (37lb) and last up to four hours.
But when you consider the distance that rescue team would have to travel, it is clear that the apparatus would have been right on the limit.
It was almost 1,200m (3,940ft) to the first cross cut, and 2,300m (7,545ft) to the end of the tunnel.
Double that distance - to get in and back out - and you are taking things to the extreme.
Now consider the conditions in the tunnel. It would be very, very hot - because the ventilation may well have gone. And, because of the rock fall, the terrain would be rough.
This could have been challenging even for a fit team of rescuers.
So, instead of going into the mine to get this information, they drilled a borehole from the surface, which obviously took time. Once completed, it verified that the atmosphere inside the mine was too dangerous too enter and that the worst scenario for the miners had been realised.
From a rescuer's point of view, this is as frustrating and distressing as it can be. These men would have been trained to help and rescue their colleagues. It is in the nature of miners to work as a team and to help each other in this extreme environment, and that is what the rescuers would have wanted to do.
There is absolutely no doubt that, if it had been possible for them to enter the mine at any time, they would have done so.
These men would have been aware that the environmental readings were preventing this.
No doubt, in the days and weeks to come there will be much discussion about what lessons can be learned from this disaster.
Of fundamental importance is the need to maintain high standards.
Mining safety standards in New Zealand are very similar to those in the UK.
But, at Pike River, something went badly wrong leaving many questions unanswered.
Related Internet Links
The BBC is not responsible for the content of external sites.