Taiwan politician's son shot on eve of election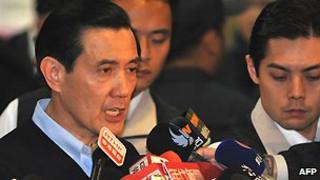 The son of Taiwan's former Vice President Lien Chan has been shot in the face while campaigning for local elections, police say.
Medical officials said Lien Cheng-wen was in a stable condition.
He was speaking at an election rally on behalf of a ruling Kuomintang party candidate in suburban Taipei when a man approached and shot him, reports said.
Saturday's elections are being seen as a key test of the Kuomintang's policy of closer ties with mainland China.
A suspect was arrested at the scene of the attack on Mr Lien with a gun and 48 bullets, a local police official said.
Another man was hit, reportedly by the same bullet that struck Mr Lien, and killed.
"Taiwan is a democracy," President Ma Ying-jeou said after visiting Mr Lien at a Taipei hospital. "We will not tolerate such violence."
Hospital officials said the bullet struck the left side of Mr Lien's face and exited from his right temple.
A Kuomintang party spokesman said Mr Lien's brain had not been damaged.
The Kuomintang's Mr Ma was elected president in 2008. Earlier this year Taiwan and China signed a historic trade pact that some analysts described as the most significant agreement since the two sides split at the end of China's civil war in 1949.
Mr Ma's predecessor, the Democratic Progressive Party's Chen Shui-bian, severely strained relations with China by making moves towards formal independence.