Teenager found adrift in Pacific describes his ordeal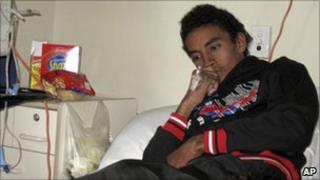 One of the three teenage boys who survived 50 days adrift in the Pacific Ocean has spoken about his ordeal.
Etueni Nasau, 14, also known as Edward, spoke from his hospital bed in Fiji to the Associated Press news agency.
He says the three of them almost gave up hope as they drifted for weeks in the open sea before finally being spotted by a fishing trawler.
"We prayed every day that someone would rescue us. We thought we would die," he said.
In late September Edward and his 15-year-old cousins, Samuel Pelesa and Filo Filo, began what they thought was a short journey between islands in the archipelago of Tokelau, a New-Zealand administered territory.
They left Atafu atoll in a small aluminium boat, but ran out of fuel for their outboard motor and began drifting out to sea.
Fish - and a bird
When the boys' small food supplies ran out they survived mainly on rainwater and fish.
"We ate flying fish, very small ones that jump into our boat, about five inches," Edward said.
He added that once Samuel managed to grab a bird that perched on the boat, which the boys shared between them.
One night they saw distant lights which they thought must be a ship - but quickly realised anyone on board would never see them.
"We saw one big ship at night time but it's too far, we couldn't do anything," he said. "So we just sat down and looked at it."
Last Wednesday they were picked up by a tuna fishing boat, having drifted more than 1,300km from Tokelau.
"I'm glad and happy that we were rescued by the fishing boat," Edward said. "I'm looking forward to seeing my family back in Tokelau."
The other two teenagers have already been released from hospital and are staying with consular staff. All three are expected to begin their journey home on Monday.