Indonesia's Islamic laws are 'abusive', report says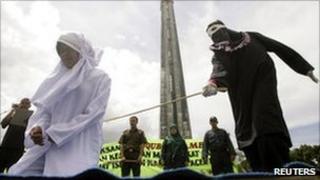 Two Islamic laws applied in the Indonesian province of Aceh violate people's rights and are implemented abusively, Human Rights Watch says.
Encouraging the community to enforce Sharia laws resulted in arbitrary arrests, abuses and torture, HRW says.
In one incident, an unmarried couple were dragged into the streets by a crowd and assaulted.
The government is reviewing local laws that could be in conflict with constitutional rights, officials said.
Aceh's unique autonomy status within Indonesia allows it to implement Sharia as a formal legal system.
The report by New York-based HRW, Policing Morality: Abuses in the Application of Sharia in Aceh, Indonesia, focuses on two of the five Islamic laws applied in Aceh.
The first imposes strict Islamic dress codes.
The second prohibits men and women, who are not blood relatives or married to one another, from being together in an isolated place.
The Islamic law also encourages members of the community to enforce the rules.
HRW says it takes no position on Sharia law - a system its supporters say provides a comprehensive guide to behaviour for Muslims.
However, it says the two laws are discriminatory.
The report author, Christen Broecker, said it is impossible to quantify the abuses, but anecdotal evidence suggests it happens fairly frequently.
HRW called on the government to repeal the laws.
The head of the Sharia law department in Aceh, Rusydi Ali Muhammad, told the BBC Indonesian service that some people might have misused the laws.
"There are weaknesses in this Sharia enforcement, we're going through a gradual process. I'm here to listen from everyone, so we can improve (standards).
"I think it's unfair that HRW published a one-sided report, I want to know where those things [they allege] happened," he said.
Sharia law was applied as part of the central government's attempts to appease the Islamic lobby in Aceh, where separatists have for years criticised unfairness in the distribution of wealth from Aceh's considerable oil and gas resources.