Australian executive charged in China with embezzlement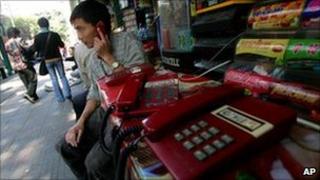 Australian executive Mathew Ng has been charged with embezzlement in southern China, Australian foreign ministry officials have confirmed.
Mr Ng, a Chinese-born Australian citizen, was detained by police in the city of Guangzhou on 16 November.
Australian diplomats said they had a "strong interest" in the case.
Nr Ng, the head of a travel company Et-China, was reportedly at odds with a local partner over the acquisition of another travel firm.
Et-China is based in Guangzhou and listed in London.
The company issued a statement of strong support for Mr Ng, hoping for "an early resolution of this matter to enable him to resume his role as chief executive officer as soon as possible".
Travel travails
An Australian foreign ministry spokesperson said on Thursday that the charge of "misappropriating company assets" had been formally laid on Tuesday.
"The Australian government is monitoring developments closely to ensure due legal process is followed," the spokesperson said.
"The Australian consulate-general in Guangzhou has raised the Australian government's strong interest in the case at senior levels of the Guangdong (provincial) government," she added.
Consular officials had visited Mr Ng last month and plan to see him again on 7 December.
Chinese and Australian media have suggested the case arose from Mr Ng's role in the planned acquisition of one of China's largest domestic travel agencies.
One of Et-China's local partners, Guangdong Lingnan International Enterprises, was reportedly at odds with Et-China over the plans, and over the planned acquisition of Et-China by Switzerland's Kuoni Group, the reports said.
Analysts have suggested that ethnic Chinese citizens of other countries have frequently been subject to Chinese arrest without access to the full benefits of consular protection.
Previous high-profile cases against ethnic Chinese foreign passport holders include the imprisonment of Australian Rio Tinto executive Stern Hu for 10 years on bribery and trade secrets charges.
Stern Hu was Rio Tinto's lead negotiator in talks with Chinese steel mills to try to settle a price for China to buy iron ore from Australian mining companies.