UN 'concerned' over North Korea uranium enrichment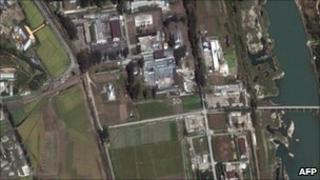 The head of the UN's nuclear watchdog has expressed "great concern" over reports that North Korea has built a modern uranium enrichment facility.
A US scientist said last month he had been shown a new uranium enrichment plant with at least 1,000 centrifuges.
And North Korea said this week that thousands of centrifuges were operating at the plant.
Uranium can be enriched to provide nuclear fuel or be more highly enriched and used in nuclear weapons.
"It was with great concern that I learned of recent reports about a new uranium enrichment facility, as well as the construction of a new light water reactor, in the DPRK [North Korea]," said Yukio Amano, the head of the International Atomic Energy Agency (IAEA).
IAEA inspectors have not been allowed into North Korea since they were expelled last year.
Mr Amano urged Pyongyang to allow his inspectors back into the country.
"As the only multilateral organisation for nuclear verification, the IAEA has an essential role to play in verifying the DPRK's nuclear programme."
Plutonium production
North Korea has twice tested nuclear devices - in 2006 and 2009 - and said in September last year that it had entered the final phase of uranium enrichment.
At the same time, North Korea said it was continuing to weaponise plutonium. The country is already believed to have enough plutonium to make about six bombs, but is not thought to have developed a ballistic missile capable of carrying a nuclear warhead.
Earlier this week the official North Korean news agency, KCNA, carried a statement that the government was building a light water reactor and was "operating a modern uranium enrichment system with many thousands of centrifuges" to provide fuel for it.
The American nuclear scientist, Siegfried Hecker, visited the plant at Yongbyon in mid-November and said he was "stunned" by the sophistication of the equipment he was shown.
But he said he could not confirm whether the enrichment plant was operating.
His report heightened international fears that North Korea might be able to enrich uranium beyond the level needed for fuel, to weapons grade.
Six-party talks, involving North and South Korea, Japan, China, Russia and the US, aimed at negotiating an end to Pyongyang's nuclear programme, stalled last year.
Tensions have soared on the peninsula with the North Korean shelling of a South Korean island near the two countries' disputed maritime border.
South Korea's chief of intelligence is reported to have said that the North is very likely to attack again.