Indonesia reduces Merapi volcano alert level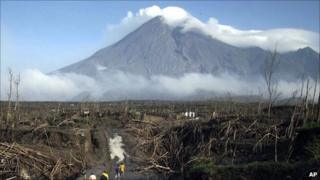 Indonesia has downgraded the alert level for volcano Mount Merapi, more than a month after it began erupting, killing more than 350 people.
Most of the 250,000 people who had been living in evacuation shelters can return home, officials said.
An area on the volcano's southern slope remained off limits, said the head of the state volcanology office.
The volcano is still spewing smoke but the threat of a deadly eruption is thought to have passed for now.
"The decision was taken this morning at 0900 (0200GMT) as its eruption activities continue to slow down," said Indonesia's chief vulcanologist, Subandrio.
"The volcano's threat is now limited to only some parts on the southern slope," he told AFP news agency.
Another government scientist said villagers were being advised to stay 3km (2 miles) from the volcano's crater.
Merapi, on Java island, began erupting on 26 October. Most of the 353 people who died were caught in the biggest eruption on 5 November when Merapi shot out jets of boiling gas and rock.
A wide area around the volcano was covered in a thick layer of ash and many homes were destroyed.