US renews demand on North Korea to change behaviour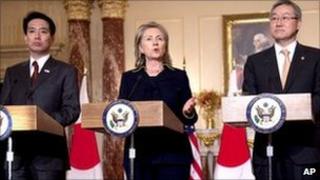 US Secretary of State Hillary Clinton has repeated US demands for North Korea to cease its "provocative behaviour".
Mrs Clinton said it was a pre-condition for the resumption of talks on Pyongyang's nuclear programme, which were halted in April 2009.
She made the comments after a meeting with her South Korean and Japanese counterparts in Washington.
It comes two weeks after North Korea's deadly attack on a South Korean island in answer to military drills by Seoul.
'Show of solidarity'
"This trilateral meeting reaffirmed the steps that North Korea should take in order for six-party talks to produce results," Mrs Clinton said at a joint news conference after the Washington talks.
"North Korea must improve relations with the Republic of Korea and cease its provocative behaviour. North Korea must also comply with its international obligations and take concrete steps to implement its denuclearisation commitments".
America's top diplomat also said that Washington was looking "forward to China playing a vital role in regional diplomacy", stressing that Beijing had "a unique relationship with North Korea".
The meeting in Washington was a show of solidarity between the US, Japan and South Korea in the face of China's reluctance to lean on North Korea, the BBC's state department correspondent Kim Ghattas reports.
China - Pyongyang's most important ally - was not invited to Washington.
Chinese President Hu Jintao earlier warned US President Barack Obama that tensions on the Korean peninsula could get out of control if not properly handled.
Meanwhile, the International Criminal Court said it would investigate suspected war crimes by the North after the shelling of Yeonpyeong island on 23 November, in which two South Korean marines and two civilians were killed.
The situation on the peninsula remains highly uncertain. On Monday, South Korea pushed ahead with a new series of major live-fire exercises despite warnings from the North.
The drills are spread off South Korea's east, west and southern coastlines; the most contentious area, along the disputed western sea border, has been largely excluded.
South Korea's new defence minister has said he would use air strikes against the North if it attacked civilians again.
Different perspectives
Regional powers are stepping up diplomatic efforts to avoid any further conflict.
In a telephone call earlier, Mr Obama urged Mr Hu to work with the US to send "a clear message" to North Korea that its provocations against the South were "unacceptable".
The BBC's defence and security correspondent Nick Childs says the mere fact of the phone call between the presidents underlines how seriously both Beijing and Washington take the latest tensions.
He says the read-out from the conversation also illustrates the different perspectives: Beijing calling for restraint on all sides and refusing to blame Pyongyang for the recent flare-up; Washington clearly looking to Beijing to lean on North Korea.
There is clearly some frustration among US officials over China's stance, coupled with questions over just how much influence the Chinese have over the North Korean leadership, our correspondent says.
Military exercises
South Korea's Joint Chiefs of Staff said the firing exercises by warships and artillery units on land were being held in 29 locations, including one of five islands near the disputed Yellow Sea border with the North.
The Northern Limit Line, the maritime border declared by UN forces at the end of the Korean War in 1953, is not recognised by Pyongyang.
Japan and the US are also holding large scale military exercises, their biggest ever.
The exercises, called "Keen Sword", involve 44,000 personnel, 400 aircraft and 60 warships.
The drills were planned before the North Korean shelling of Yeonpyeong island.
They are being held to mark the 50th anniversary of the Japanese-US alliance and last until 10 December.