Philippines and China to sign first military deal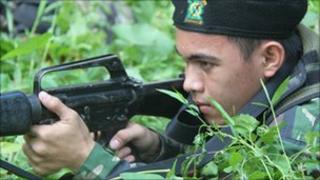 The Philippines, one of America's staunchest allies in South-East Asia, is due to agree a deal with China to supply it with military hardware.
The head of the Philippine armed forces is in Beijing to sign what has been described as a "very substantial" agreement.
A military spokesman denied that the move marked a shift in alliance from the US to China.
But this is seen as another sign of China's expanding reach in the region.
The Philippines has one of the weakest militaries in East Asia, and is fighting long-running insurgencies with both Communist and Islamic rebels.
It urgently needs equipment - a key part of its current stock is made up of second-hand assault rifles, boats and aircraft from the United States.
American forces are also based in the country to help train local soldiers.
Brig Gen Jose Mabanta, a spokesman for the Philippine military, has denied that this new deal will change his country's relations with Washington.
But the US has already expressed concern over China's arms sales and donations to its weaker neighbours - and a congressional report last year warned of the dangers of China's expanding military reach.
The deal also highlights the change in China's stance, over the years, to the Philippines' Communist insurgency.
When Philippine Communists originally set up the New People's Army in 1969, it was supported by Beijing.
Now Philippine soldiers could be using Chinese equipment against them.