China urges dialogue on North Korea crisis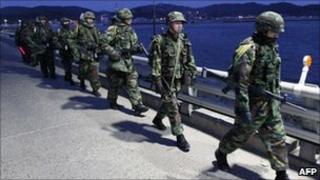 China says dialogue and co-operation are the only way forward to help deal with tensions on the Korean peninsula.
The responsibility for maintaining peace should be "shouldered by all parties in the region," foreign ministry spokeswoman Jiang Yu said.
China - North Korea's main ally - is under pressure from the US and others to rein in the "provocative" North.
It comes two weeks after North Korea's deadly attack on a South Korean island in answer to military drills by Seoul.
Two South Korean marines and two civilians were killed when Pyongyang shelled Yeonpyeong island on 23 November.
It was the first attack on a civilian-populated area in the South since the end of the Korean war in 1953.
The situation on the peninsula remains highly unstable. South Korea has entered a second day of major live-fire exercises, despite warnings from the North.
The drills avoid the most contentious area, along the disputed western sea border.
South Korea's new defence minister has said he would use air strikes against the North if it attacked civilians again.
'Vital role'
The head of the US Joint Chiefs of Staff, Admiral Mike Mullen, is to visit Seoul on Tuesday in a show of solidarity with the South.
Adm Mullen will meet his South Korean counterpart as well as defence minister Kim Kwan-jin.
The two sides "plan to analyse the intention of North Korean provocations and discuss measures to deter further provocations through close co-operation," Seoul's military said in a statement.
It comes a day after US Secretary of State Hillary Clinton repeated US demands for North Korea to cease its "provocative behaviour".
Mrs Clinton said it was a pre-condition for the resumption of talks on Pyongyang's nuclear programme, which were halted in April 2009.
She also said Washington was looking "forward to China playing a vital role in regional diplomacy," stressing that Beijing had "a unique relationship with North Korea".
Mrs Clinton made the comments after a meeting with her South Korean and Japanese counterparts in Washington.
China was not invited to take part. The three powers have so far resisted Beijing's call for emergency six-party talks on North Korea.