China Catholic bishops to elect new leaders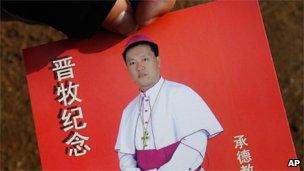 Chinese bishops are to elect leaders of the government-backed Catholic church, amid tensions with the Vatican.
The authorities are forcing a number of bishops to attend the Beijing meeting, while others have gone into hiding, a Vatican-linked news agency said.
The Vatican threatened to excommunicate a bishop after he was ordained without papal approval last month.
China's 10 million Catholics are split between followers of the Pope and the Chinese Patriotic Catholic Association.
The Association is not in communion with Rome and refuses to accept the sole authority of the Pope to appoint new bishops.
The meeting of Catholic representatives in Beijing will elect new presidents for the Chinese Patriotic Catholic Association and the Council of Chinese Bishops - the two main bodies of China's government-backed church.
This gathering has been postponed several times in the last few years, leaving both organisations leaderless.
The last president of the Chinese Patriotic Catholic Association, Bishop Fu Tianshan, died in 2007, while the last head of the bishop's conference, Liu Yuanren, died in 2005.
China broke off diplomatic relations with the Vatican in 1951 but in recent years informal relations had been improving between Beijing and Rome, with an occasional visit by a senior Vatican cardinal.
But ties with the Holy See hit a setback last month with the consecration of the first Chinese bishop for almost five years without the approval of Rome.
Bishop Guo Jincai is not only a senior figure in the Chinese Patriotic Catholic Association, but was ordained in a diocese that was also created without Rome's approval.
The Vatican said several Chinese bishops were forced to attend the ceremony against their will.
Related Internet Links
The BBC is not responsible for the content of external sites.