US commander urges China to act on North Korea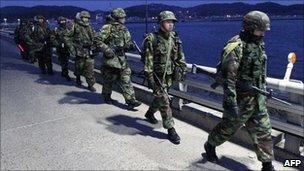 China has a "unique responsibility" to tackle the issue of North Korea, the top US military commander has said.
Speaking in Seoul, Admiral Mike Mullen said Beijing had "unique influence" over Pyongyang which it should use to curb its behaviour.
His comments came after talks with senior officials in the wake of last month's deadly shelling of a South Korean island.
As the talks began, North Korea conducted military drills in the area.
Tensions on the Korean peninsula have been extremely high since North Korea's 23 November shelling of Yeonpyeong, a small South Korean island close to the disputed western sea border.
Two soldiers and two civilians were killed in the shelling, which Pyongyang said was a response to South Korean military exercises.
In Seoul, Adm Mullen held talks with his South Korean counterpart, Gen Han Min-koo, and other senior officials.
The two sides agreed to hold more joint military exercises, a joint statement said.
In a press conference after the talks, he called on China - North Korea's key trading partner and closest ally - to do more on the issue.
"They are a world leader and leaders must lead - particularly to prevent crises and to prevent the kinds of destabilising activities that are very evident coming out of the leadership in Pyongyang," he said.
"China has unique influence. Therefore, they bear unique responsibility."
China - which hosted the now stalled six-party North Korea denuclearisation talks - has traditionally been reluctant to come down hard on its unpredictable neighbour.
Early on Tuesday, explosions from apparent live-fire exercises were heard on the North Korean side of the western sea border.
The latest shelling "appears to be a part of regular exercises", an official told the South Korean news agency, Yonhap. No shells fell south of the border, the agency said.
The South is also conducting its own live-fire drills around its coastline this week.
Further diplomacy is planned next week, when US Deputy Secretary of State James Steinberg is due to lead a delegation to Beijing for talks on North Korea.
"China has a critical role to play," said Mr Steinberg.
"We believe it is in the interest of both the United States and China... to work together to achieve solutions to the world's most vexing problems."
He will be accompanied by three top Washington officials on Asia: Jeffrey Bader from the National Security Council, the top diplomat for East Asia and the Pacific Kurt Campbell, and the US envoy for six-party talks about the North's nuclear programmes, Sung Kim.
"They will meet senior officials to continue consultations with the Chinese on regional security issues, including recent developments on the Korean peninsula," said a state department statement.
Related Internet Links
The BBC is not responsible for the content of external sites.