Top Philippine court rules out Arroyo investigation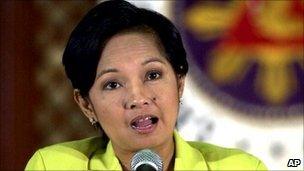 The Philippine government has criticised the Supreme Court after it decided that a truth commission set up by President Benigno Aquino was unconstitutional.
The commission was due to investigate claims of corruption against the previous president, Gloria Arroyo, who has many allies in the Supreme Court.
The justice secretary described the decision as politically motivated.
The establishment of a commission was one of Mr Aquino's campaign pledges.
Gloria Arroyo was deeply unpopular towards the end of her term and Mr Aquino's promise to pursue her for alleged corruption found widespread support, even though she has consistently denied the allegations.
But before it has even started its investigations, the commission will have to be disbanded.
The Supreme Court said that because the group was singling out one person, Mrs Arroyo, it violated the country's constitution.
This is not the first time Mr Aquino has found his plans blocked by Supreme Court judges - all but one of whom were given their jobs by Mrs Arroyo.
They have already overturned his orders to impeach the ombudsman and to revoke last-minute appointments by his predecessor.
A spokesman for the president said that despite the court's decision, the government would continue its investigations into the former administration - through other channels if necessary.