Wikileaks cables show Xi Jinping and Li Keqiang details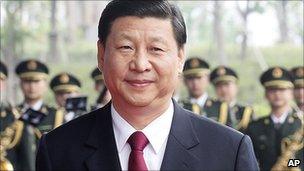 US diplomatic cables published by Wikileaks have revealed more about the attitudes and concerns of the two men expected to lead China from 2012.
Xi Jinping and Li Keqiang - tipped as China's next president and premier - had separate dinners with US Ambassador Clark Randt in March 2007.
Both spoke proudly of economic advances in their respective regions.
Mr Xi was revealed as a US war film fan, while Mr Li said residents' biggest worry was corruption.
At that time Mr Xi was Communist Party secretary in Zhejiang province and Mr Li held the same position in Liaoning.
Both are now members of the nine-strong Politburo Standing Committee and are widely seen as China's leaders-in-waiting.
According to one cable, Xi Jinping had a "frank and friendly" conversation with Mr Randt, much of which focused on economic development in Zhejiang.
Residents were most concerned about education, affordable housing and healthcare, Mr Xi reportedly said, and also about "the working style of government and party officials".
But, said Mr Xi, with 70 million party members, "it should not be surprising that several thousand may be problem cases".
A fan of the Spielberg film Saving Private Ryan, Mr Xi reportedly said that he liked Hollywood movies about World War II, describing them as "grand and truthful".
In US movies "good usually prevails", he said, whereas some Chinese film-makers neglected "values they should promote".
Mr Li, described in another cable as "engaging and well-informed", talked about his efforts to raise residents' standards of living, including the policy of guaranteeing one member of each household in Liaoning a job.
What made residents most angry, he said, was corruption. He said that local officials were sent on prison tours to meet jailed bureaucrats to make them understand the risks of graft.
Mr Li described some government economic figures as "man-made", saying he used figures on loans, rail cargo volume and energy consumption to assess growth.
He reportedly said little about his hobbies, other than saying he liked to build walking into his daily schedule.
Related Internet Links
The BBC is not responsible for the content of external sites.