Justice sought in UK over Malaysia deaths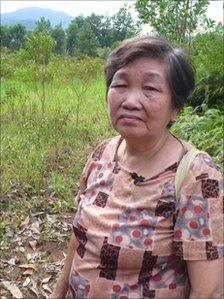 Chong Koon Ying was only nine years old when British soldiers came to the rubber plantation and killed her father.
Today, on her first visit to the scene in decades, the stream helps her work out where the rows of trees used to be, where the family lived and where 24 men were shot dead on 11 and 12 December 1948.
"This is the place my mother came to identify the bodies," she said.
Since her father and the other Chinese migrant workers were killed, the British government has ignored calls for an inquiry, and this month the latest petition has again been refused.
It was late afternoon when the platoon of Scots Guards arrived in Batang Kali, now just an hour's drive from Kuala Lumpur, but then deep in the jungle and an area thought to be a Communist stronghold.
"They separated the men from the women," she remembered, picking over some big stones which were all that remained of the house on stilts where they lived.
The Malaya Emergency was only six months old and the troops had come expecting trouble.
A guerrilla force which Britain had used to help defeat the Japanese in World War Two had turned on them, and Communist insurgents were attacking the rubber and tin producers who generated the colonial power's biggest source of foreign income.
The men and the women were interrogated, asked where the insurgents were and accused of giving them food. One of the men was shot dead that evening.
"A woman was crying and the soldiers said if she didn't stop they would shoot her," Ms Chong remembered. She tried to keep her younger brother and sister quiet.
They spent all night in one big room with no food or water and the next day they were forced onto the back of a truck.
She then acted out the gunfire they heard - "boom, boom, boom" - pointing to the five different areas the men were taken and shot.
As the truck pulled away they saw the houses burning with everything they owned inside.
Ms Chong broke down as she remembered what happened.
"It's heartbreaking, we were left with nothing. I am old, soon I will be in a coffin, but I hope there will be compensation," she said.
The soldiers claimed the men were insurgents who had been shot as they tried to escape and a brief inquiry at the time supported that version of events.
But in 1970 some of the Scots Guards on patrol that day told a tabloid newspaper the men had been killed in cold blood - not while trying to escape, but illegally.
A Scotland Yard inquiry followed, but was abandoned after a change of government in Britain.
Then in the 1990s, following a BBC documentary, Malaysian authorities reopened the investigation, but again it was stopped before reaching a conclusion.
Now the latest petition for an inquiry has been rejected and the lawyer representing the families in Malaysia, Firoz Hussein, says he will challenge the decision in the British courts.
"We want a public inquiry that investigates precisely what happened, to exonerate the 24 villagers and we feel reparations should be paid to these people," he said.
"The families are still tainted with the stigma that those executed were Communist terrorists.
"This issue must be put to rest finally - there must be a sense of justice achieved for all those executed, so no matter how long it takes we feel it should be brought to a close, and resolved."
He acknowledged it would be difficult, as a long time had passed since the events and many witnesses had died, but said it was important lessons were learned about maintaining standards when at war.
A spokesperson from the British Ministry of Defence issued a statement: "We do not condone any wrongdoing by UK forces. These events took place over 60 years ago so it is highly unlikely that UK forces operating in 2010 could learn any useful lessons from a public inquiry.
"The families of those who died may choose to take legal action to overturn this decision and so it would be inappropriate for us to comment further while the possibility of further legal proceedings still remains."
The Malaya Emergency lasted 12 years and is still considered one of the few successful counter-insurgency campaigns.
British troops study the strategy and tactics used in Malaya before going to Afghanistan and commanders see it as an important part of today's counter-insurgency approach in Helmand province.
Only a handful of those who were there that day are still alive, but the survivors and their families want their version of what happened in Batang Kali written into the history books.