S Korea and Taiwan firms fined by EU for price cartel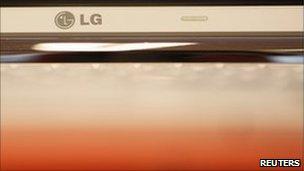 South Korean and Taiwanese firms fined by the European Union for running a price cartel on TV screens are considering appeals against the fine.
The EU fined one South Korean and four Taiwanese electronics companies more than $850m (£490m).
The European competition watchdog said the companies had colluded to fix prices on LCD screens for televisions and computers between 2001 and 2006.
It said this had a direct impact on European consumers.
The vast majority of televisions and computers sold in the EU region came from Asia.
A sixth company - the South Korean firm Samsung - was also accused of taking part but escaped a fine for having come forward with information about the cartel's activities.
Reacting from Seoul, South Korea's LG Display has admitted "wrongful acts" but said it is considering an appeal against the size of the fine imposed.
Taiwan's AU Optronics (AUO) has said it will appeal against the fine, and the other Taiwanese firms involved - Chimei InnoLux Corporation, Chunghwa Picture Tubes and HannStar Display Corporation - say they are considering an appeal.
"Foreign companies, like European ones, need to understand that if they want to do business in Europe they must play fair," European competition commissioner Joaquin Almunia said in a statement.
"The companies concerned knew they were breaking competition rules and took steps to conceal their illegal behaviour," he said.
The EU found that the companies held monthly meetings, usually in hotels in Taiwan, to agree on price ranges and minimum prices.
Dubbed "the Crystal meetings", these traded information on future production planning, capacity utilisation, pricing and other commercial conditions.
Competition regulators started investigating the cartel in 2006, in the United States and Asia as well as in Europe.
LG and Chunghwa, along with Japanese firm Sharp, pleaded guilty in the United States and were fined there in November 2008.