Japan brawl threatens actor Ebizo Ichikawa 's career
By Roland Buerk
BBC News, Tokyo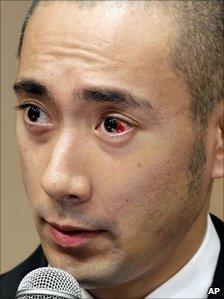 Japanese police are investigating a nightclub fight which is threatening to end the career of the country's most famous stage actor.
Ebizo Ichikawa is the scion of a dynasty which has dominated traditional kabuki theatre for more than 300 years.
Since Mr Ichikawa became embroiled in the scandal his performances have been suspended and several companies have pulled TV adverts featuring him.
Police investigating the fight are searching for a member of a biker gang.
Ebizo Ichikawa was raised from birth to face the limelight but little could have prepared him for the nearly 700 reporters and photographers who gathered for his first public appearance since the fight which has scandalised Japan.
Fresh from a stay in hospital the 33-year-old actor bowed deeply and apologised for causing "tremendous trouble and concern".
He said that his arrogance and imprudence may have brought on the attack.
It was last month that the man known as the Prince of Kabuki theatre scuffled with what onlookers said was a member of a biker gang in a Tokyo nightclub.
Ebizo Ichikawa - one of the most famous men in Japan - is the 11th in a dynasty of celebrated performers of the traditional art form.
Plays feature elaborate costumes and make-up, and tell of samurai warriors and doomed love.
Worse than the public disgrace, medical experts have speculated that facial injuries could leave Ebizo Ichikawa unable to perform his famous nirami glare.
The ferocious cross-eyed pose has been an Ichikawa family trademark since the 17th Century.