Australian dog declared MIA in Afghanistan returns home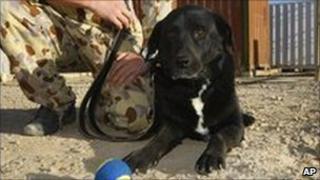 An Australian special forces sniffer dog that went missing for almost 14 months after a battle in Afghanistan has finally returned home to Australia.
Sarbi arrived in Sydney on a flight from Dubai, where she had been in quarantine for the past six months.
She has now been moved to a quarantine facility, where she will undergo further veterinary examinations.
The 10-year-old bitch went missing in September 2008 after her patrol was ambushed in Uruzgan province.
Nine Australian soldiers, including Sarbi's trainer, were wounded.
After the attack, there was no sign of the dog, and months of searching failed to find her. Sarbi was officially declared Missing In Action (MIA).
Return to service
But in late October 2009, the dog was found by a US soldier in the care of a local Afghan man. She appeared to have been well cared for.
She later returned to the Australian Special Operations Task Group base to a celebrity welcome from then Australian Prime Minister Kevin Rudd and the former US military commander, Gen Stanley McChrystal.
The Australian Defence Force (ADF) said Sarbi would now spend another 30 days at the Eastern Creek isolation facility near Sydney.
"When released from quarantine early next year, Sarbi will return to the incident response regiment where she will continue her assessment and training to return her to service as an explosives detection dog," it added.
Last month, it was reported that Sarbi's original owner, Wendy Upjohn, had written to the defence minister seeking the return of the dog when her military service is over, saying the army had promised to give her back in 2004.
The army has denied any such undertaking was given and says the dog will remain with her handler and his family when she retires.