Nobel: China blocks foreign websites ahead of ceremony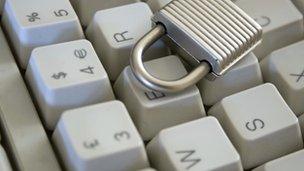 China has blocked several foreign news websites, including the BBC and Norwegian broadcaster NRK, on the eve of the Nobel Peace Prize ceremony.
Some Nobel-related reports on CNN were also reported to be inaccessible.
A furious China has denounced the Nobel award honouring activist Liu Xiaobo - who is serving a 11-year prison term for subversion - as an "obscenity".
The Nobel Foundation has praised Mr Liu for his "long and non-violent struggle" for political reform in China.
Beijing has criticised Norway, which is hosting Friday's Nobel ceremony, and suggested that Western nations are trying to impose their values on China.
In a statement, the BBC said: "We can confirm that all BBC sites, not just news, are blocked to users in China. We are not alone. It is the same for many other sites belonging to international news organisations.
"We are disappointed that our audiences in China are denied access to our impartial and editorially independent journalism."
There has been no comment from Beijing.