South Korea stages more military drills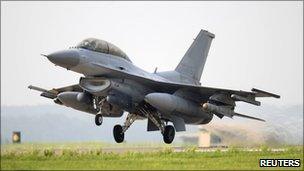 South Korea has begun another week-long series of live-fire military exercises along most of its coastline.
However, the drills will avoid the disputed western sea-border, where North Korea shelled an island last month, killing four South Koreans.
North Korea said that attack was in direct response to South Korean military exercises there. It says drills by the South are a provocation.
There have been intense international diplomatic efforts to calm the crisis.
Last week, China's top diplomat met North Korean leader Kim Jong-il in Pyongyang, with Chinese state media reporting a "consensus" had been reached.
The US has been putting pressure on China - the North's main ally - to intervene in the crisis.
Top US military official Adm Mike Mullen has accused China of "enabling" North Korea's "reckless behaviour".
China has hit back, saying military threats cannot resolve tensions on the Korean peninsula.
In a hardening of policy, South Korea has threatened to mount air strikes on the North if it carries out further attacks.
China, which supplies food and fuel to North Korea, has so far refused to condemn the attack on Yeonpyeong, the first attack of its kind on South Korean civilians since the Korean War ended in a ceasefire in 1953.
Both Japan and South Korea have carried out joint military exercises with the US in the past few weeks.
China has criticised those exercises as an attempt at US containment in an area Beijing sees as its own responsibility.
North Korea has been defending its shelling of Yeonpyeong as a response to extensive live-firing from the South.
Related Internet Links
The BBC is not responsible for the content of external sites.