Jewish ritual sparks New Zealand ferry bomb alert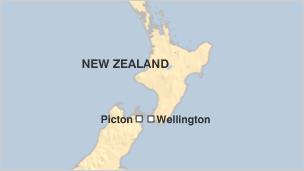 A devout Israeli tourist triggered a bomb alert on a New Zealand ferry when crew members mistook his Jewish prayer items for possible explosives.
Armed police reportedly forced the man and a companion to the floor after the ferry docked at Picton on South Island.
They discovered the man was wearing phylacteries, small black boxes that Orthodox Jews strap to their arms and head as part of a prayer ritual.
Police said a man had been questioned and released without charge.
New Zealand race relations commissioner Joris de Bres said the police response was "unfortunate" and showed "an exaggerated fear of terrorism" in the country.
"It's just a reminder we ought to pause and think before we jump to conclusions," he told the Dominion Post.
The incident happened on Sunday as the Interislander ferry Kaitaki sailed across the Cook Strait from Wellington to Picton.
Kevin Ramshaw, of the ferry operator Kiwirail, told news agency NZPA that the captain had followed normal procedures by alerting police to a possible threat.
"One individual had two boxes attached, one box taped to his leg and one box seemingly taped to his forehead," he said.
"There were what seemed to be wires attached to them," he added.
Mr Ramshaw said the 750 passengers on the ferry were "probably" not aware of the alert.
"Staff felt the better thing to do was observe and stay away," he said.
Phylacteries - called tefillin in Hebrew - are two small boxes of black leather with straps attached to them.
Observant Jewish men place one box on their head and tie the other to their arm as part of their morning prayers.
In January a US Airways flight bound for Kentucky from New York was diverted to Philadelphia after a young Jewish man's phylactery triggered a bomb scare.
Related Internet Links
The BBC is not responsible for the content of external sites.