Japanese PM Naoto Kan makes Iwo Jima battlefield pledge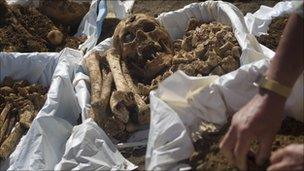 Japanese Prime Minister Naoto Kan has visited Iwo Jima, the World War II battlefield in the Pacific where thousands of Japanese and US troops died.
Mr Kan's visit is only the second to the island by a Japanese prime minister.
It follows the discovery of two mass graves thought to contain the remains of as many as 2,200 people.
Mr Kan said his government was committed to recovering the dead.
"The government is responsible for bringing home the remains of soldiers, who were indispensable for their families," he said.
"I promise to repatriate as many soldiers as possible by sifting through each and every grain of sand."
The island, which lies 700 miles (1,100km) south of Tokyo, was the first Japanese territory attacked by US ground troops during World War II.
Almost 22,000 Japanese and 6,800 US troops died in five fierce weeks of fighting in February and March 1945.
The Americans occupied the island after the war and returned it to Japan in 1968.
Mr Kan set up a government team in August to ensure the remains of 13,000 Japanese troops still on the island were returned to the mainland.
Search teams found two mass graves in October, one at the foot of Mount Suribachi - where the iconic image of US troops raising the flag on 23 February 1945 was taken.
About 200 bodies are thought to be in that grave and up to 2,000 at a second site near a runway in the centre of the island.
Iwo Jima has since been renamed Iwo To - meaning Sulphur Island - at the request of former residents.
It was called Iwo Jima by US troops and some mainlanders because they mispronounced the character for island, which can be read two different ways.