Papua New Guinea PM Somare steps down for tribunal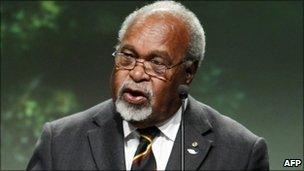 Papua New Guinea's prime minister has temporarily stepped down to face a tribunal investigating misconduct.
Michael Somare is accused of failing to submit full annual financial statements in the 1990s.
It follows a Cabinet reshuffle last week, after Mr Somare replaced his deputy in favour of close ally and foreign minister Sam Abal, who will now stand in as prime minister.
Mr Somare is serving his fourth term as leader of the Pacific Islands nation.
He became Papua New Guinea's first leader after independence in 1975 and was re-elected in 1982, 2002 and 2007.
In a brief statement, Mr Somare said he would "voluntarily step aside... while he attends to clearing his name".
The statement said he respects the "due processes" and will co-operate with tribunal hearings.
The 74-year-old has said he is the victim of a "gross injustice", saying he had been been unable to defend himself since the allegations were first filed in 2008.