Cambodia to shut Vietnamese refugee centre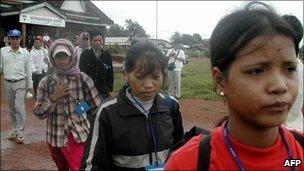 Cambodia says it will shut a centre for Vietnamese refugees on 1 January and send those remaining back to Vietnam, where they allegedly face repression.
The UN refugee agency has pleaded for more time to resettle the 62 refugees.
They are the last group of asylum-seekers known as Montagnards - an ethnic minority that largely sided with US forces during the Vietnam war.
Cambodia has refused to allow them to settle, saying they must choose to go to a third country or back to Vietnam.
Hundreds of Montagnards have fled to Cambodia since 2001, after Vietnam's communist government cracked down on protests against land confiscation and religious persecution.
The UN High Commissioner for Refugees (UNHCR) has already has granted the Montagnards refugee status.
"We have asked the Cambodian government to give us more time to find a long-term solution for these 62 individuals who are at that site, and we hope that the Cambodian government will give us a favourable reply," Kitty McKinsey of UNHCR told the BBC Vietnamese service.
"They haven't sent them back yet, so let's not get ahead of ourselves."
Cambodia says it wants to close the shelter in Phnom Penh to deter any further arrivals from Vietnam.
"If we don't tell them to close the site, the work of the UNHCR will be prolonged endlessly," Foreign Ministry spokesman Koy Kuong was quoted by the Associated Press as saying.