Philippine journalists in the line of fire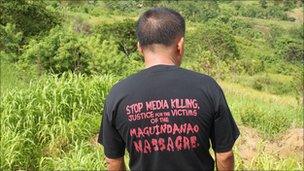 Along with Iraq and Afghanistan, the Philippines is one of the most dangerous places in the world to be a journalist.
The risks were made only too apparent in November last year, when more than 30 reporters and cameramen were among 57 people killed in the province of Maguindanao - the largest murder of journalists ever recorded anywhere in the world.
But while that is an extreme example, it is not an isolated one.
Since the Maguindanao massacre, another five journalists have been killed - and during the nine-year term of the previous president, Gloria Arroyo, 105 members of the media lost their lives.
For Malu Manar, a radio reporter for the Notre Dame Broadcasting Corporation in the notoriously violent region of western Mindanao, the risk is just a normal part of the job.
"I'm sorry but killings here are a very ordinary thing - politicians, media… it's ordinary," she said.
A slender, straight-talking woman in her early 40s, Malu's job is to report on the local bombings, shootings and disappearances while trying to avoid the very things she is reporting about happening to her.
She has to negotiate a delicate path between the Communist rebels from the New People's Army (NPA), Islamic insurgents from the Moro Islamic Liberation Front (MILF), the police, the army, private militia groups, politicians and would-be politicians, influential private families - like the Ampatuans, who are accused of the Maguindanao massacre - as well as a whole range of private gangs, extortion groups and business leaders.
It is a tightrope from which she could very easily fall - and be accused of favouring one side at the expense of another.
Malu says most people respect her neutrality, but not always.
"An army officer once accused me of supporting the communist guerrillas, which I said was a lie."
And then there are those who do not openly accuse her but let her know they are not happy in other ways - through threatening phone calls and text messages or by sending people to follow her.
"Threats are part of everyday life," she said, adding that she has had threats of various kinds since she started writing about electoral fraud in 2000.
But one incident, in 2005, proved too much.
"They tried to abduct my two daughters in school. A week before that incident they ransacked my house and attempted to rape my maid," she said.
"I had to leave Cotabato City because my daughters were involved."
She never found out who "they" were, but she knew they were serious, so she moved three hours away to where she lives now.
"It's safer here in Kidipawan. I've had five threats on my life since 2005 but it's not too bad."
She knows all too well what can happen. A close friend, Bong Reblando, was killed in the Maguindanao massacre, and two of her colleagues at the radio station - a husband and wife team - were shot dead on their way home from work several years ago.
She herself was most scared when she was captured by Islamic rebels in 2004.
"A group of Muslims were doing a congressional prayer for Eid, and they'd been bombed. We heard [about the attack] and went to the area," she said.
"But we were waylaid by a group of people who at first we thought were soldiers, but when we got near we saw the red badge of the MILF."
The rebels took away her car, and she was held - with her colleague and driver - in an MILF camp for six hours.
Fortunately, an official she knew happened to be in the area and they were allowed to leave in his car.
Malu now takes various steps to try to stay safe - she varies her daily routine, avoids taking public buses when possible as they are often targeted by extortion gangs, and she also phones trusted contacts before arriving in a dangerous area.
Her husband, who often acts as her bodyguard, picks her up from work most days carrying a gun.
"In Cotabato City he had two short guns and a grenade… one on his waist, one on the dashboard and the grenade was hidden," she said.
"Here the danger is less - we only have one gun now."
But even if she takes all the precautions she can, she still has to negotiate her way through the minefield of Mindanao's factional society on a regular basis.
She took us out on a typical assignment, to investigate the killing of a man called Juanito Libre.
She had been told by a reliable contact that the local tribal leader was being accused of ordering the murder, as he was allegedly an NPA collaborator.
Mr Libre was a member of the village guard, and according to locals he was also an informant for the army.
When we arrived, Malu interviewed the tribal leader, who denied the killing.
The deceased man's family - who live a few hundred metres from the village head - insisted they had no idea who was behind the killing, and said Mr Libre had not been affiliated to any particular group.
Just as we were leaving, the army turned up, bringing another dimension to an already complicated story.
Given the number of different groups that are active in the region, investigations can quickly become a tangled web of accusations and counter-accusations, denials and differences of opinion, but if Malu gets something even slightly wrong, the consequences could be deadly - not just to those involved but also to Malu herself.
So what makes her risk her life every day to do this?
"We have a role to play… it's our commitment to the public to tell the truth," she said. "Nothing will stop me doing this."
And it is not just Malu who has this conviction - despite all that the family have been through, both her teenage daughters want to be journalists.