Kyrgyzstan sets up new coalition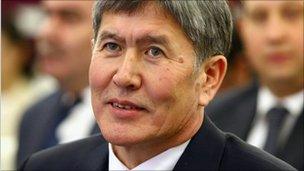 Kyrgyzstan has a new parliamentary coalition following weeks of political wrangling, after elections failed to produce an outright winner.
Three out of five political parties that won seats in the country's landmark parliamentary elections in October have agreed to share power.
The parliament has voted for its Speaker and is expected to confirm the prime minister shortly.
Kyrgyzstan is Central Asia's first parliamentary democracy.
The coalition government will consist of the Social Democrats - whose leader Almazbek Atambayev is widely expected to become prime minister - and two other parties, Respublika and Ata Zhurt.
The prime minister is to assume more power than the president.
The speaker of parliament, an influential position, will be held by Akhmatbek Keldibekov of the nationalist Ata Zhurt party.
Ata Zhurt and the Social Democrats are unlikely partners in this new government. Ata Zhurt is made up of many former members of the old regime.
Their return to power is a remarkable comeback since former president Kurmanbek Bakiyev was ousted in a mass uprising in April.
The Social Democrats worked to reform the constitution stripping the president of powers and favouring a parliamentary democracy.
But the new government will have a challenging task ahead.
After months of upheaval and violence the country's economy is in bad shape and the security situation, particularly in the south of the country - the scene of inter-ethnic fighting last June - remains tense.
A coalition announced at the end of November that consisted of the Social Democrats, Respublika and Ata-Meken parties was abandoned because MPs could not agree on a parliamentary speaker.
Ata-Meken's leader Omurbek Tekebayev, the author of the country's new constitution, failed to secure enough votes for the position.