US envoy Bill Richardson warns of Korea tinderbox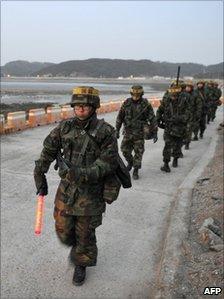 An unofficial US envoy visiting North Korea has warned that the situation on the peninsula is a "tinderbox".
The envoy, Bill Richardson, made the comments after talks with officials in Pyongyang, whom he asked to exercise "extreme restraint".
He said he had urged them to let South Korea go ahead with planned live-firing exercises on an island which was shelled by the North last month.
Pyongyang has been threatening to strike back if the drill goes ahead.
On Friday, Russia - which shares a border with North Korea - summoned US and South Korean envoys to urge them to cancel the exercises, saying Moscow was "deeply concerned" about rising tensions in the region.
New Mexico Governor Bill Richardson is visiting Pyongyang in a private capacity, but he has in the past acted as a go-between with North Korea - with whom the US has no formal diplomatic ties.
He told CNN he had made "a little headway" in his talks with North Korean officials.
"I am urging them extreme restraint... Let's cool things down. No response. Let the exercises take place," he said.
"My sense from the North Koreans is they are trying to find ways to tamp this down. Maybe that will continue today, that's my hope," he said.
He suggested that the two sides consider holding a summit to seek ways of avoiding future confrontation.
"Right now this is a tinderbox. What we need to do right now is not just tamp things down, but look at steps that can be taken by the North Koreans, especially such as perhaps allowing the IAEA (International Atomic Energy Agency) to come in and look at the nuclear arsenal."
North Korea has warned it will launch "unpredictable self-defensive strikes" if the drill goes ahead on the island of Yeonpyeong, which lies close to the disputed inter-Korean western maritime border.
But the South insists the one-day exercises will be held some time between Saturday and Tuesday.
Local news reports say they are likely to take place on Monday or Tuesday, when the weather is expected to be better.
Four South Koreans - two marines and two civilians - died in the 23 November attack on the island.
China has warned that any new clash between the North and South could shake regional stability, and it has urged both governments to avoid moves that could stoke tensions.
But the statement by Foreign Ministry spokesman Jiang Yu neither directly criticised Seoul's plans to stage the exercises, nor Pyongyang's threat to retaliate.
"The situation on the Korean peninsula is now particularly complex and sensitive, and China is highly concerned," Jiang said.
"China resolutely opposes, without the least ambiguity, any actions that could lead to a deterioration and escalation in the situation and wreck regional peace and stability," the statement said.