Indonesia court jails Aceh-linked militants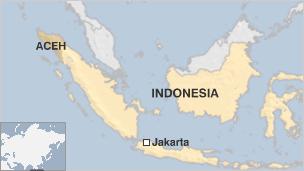 A court in Indonesia has jailed six men linked to a militant group accused of plotting attacks in the capital, Jakarta.
The men are among dozens arrested since the discovery of an Islamist paramilitary training camp in Aceh in February.
Indonesian police say the Aceh group were planning attacks on Western targets and politicians in Jakarta.
One man was jailed for nine years for providing funding for the camp.
Judge Mutarto - who goes by one name - said Oman Rohman had given militant leader Dulmatin $2,320 (£1,493) to pay for training at the camp.
"He gave the money directly to Dulmatin late in 2009 to organise the training," he said.
Dulmatin - suspected of planning the 2002 Bali attacks which killed 202 people - was killed by police in March.
Five other men received sentences of seven or eight years for attending the camp or bringing other people there.